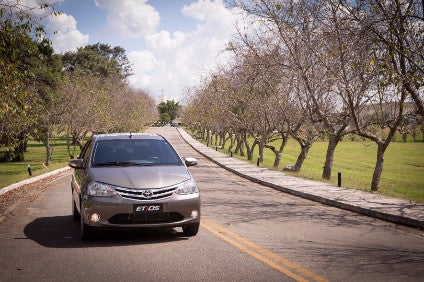 Toyota Brazil has struggled to turn the smaller Etios in to as easy a sell as the Corolla. Yet thanks to some incentives for dealers and continuous improvement in equipment and finish, early market goals are near plans but almost certainly with low profitability. Some potential buyers say they do not like the styling yet recognise the car's integrity and trustworthy mechanicals.
Since September 2012, when it was launched, sales have increased at a slow pace and the 2017 model year started this month with a handful of novelties: more power and torque for the 1.3-litre and 1.5-litre Dual VVT-i engines, six-speed manual gearbox, attractive digital, TFT instrument cluster with a 4.2-inch display, richer standard equipment for all versions, improved sound deadening, re-tuned suspension and electric power steering.
For the first time, an epicyclic, four-speed automatic is available. Prices start at BRL47,490/$13,300 (hatchback model).
The official inauguration of its engine plant this month, the Japanese brand's first ever in Latin America, required a BRL600m/$170m spend. It is home to the most production engineering among Toyota plants around the world, Toyota said. Automation is very high. Foundry and machining share the same roof thanks to top-grade environment control. Current capacity is 108,000 engines yearly, but expansion for local manufacture of Corolla engines is expected in the near future.
Along with their new plant Etios engines have improved. Finger-type, roller cam followers are used in lieu of cup tappets and compression ratio is one point up to 13-to-one on the same, regular fuel.
The 1.3-litre Flexfuel pumps out 96.6bhp (ethanol) and 86.8 bhp (petrol), and torque is 92.6 lb-ft (ethanol) and 89 lb-ft (petrol). Torque improved 9% and power is 7.9 bhp.
The 1.5-litre tops 105.5 bhp (ethanol) and 100 bhp (petrol). Torque is 104 lb-ft (ethanol) and 101 lb-ft (petrol). Torque climbed 11% and horsepower is up 10.8bhp. Fuel economy has improved.