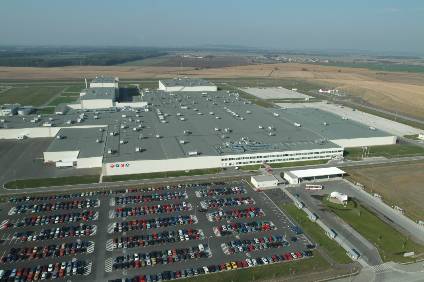 Confirming earlier reports, Toyota and PSA are resetting their collaborative relationship in Europe so that PSA exits the Czech joint venture making small cars and they ramp up their collaboration in light commercial vehicles.
The main changes are that PSA will supply a Compact Van (C-Van) to Toyota from its Vigo (Spain) plant and Toyota will buy out PSA's share of the TPCA joint-venture operations in Czech Republic. Toyota said, however, that it will 'maintain current production for both companies' at the Czech plant.
From end 2019, PSA will start the supply to Toyota for sale in Europe with a C-Van from its Vigo plant (Spain).
PSA and TME started their collaboration on mid-size light-commercial vehicles in 2012, with the Toyota PROACE produced at Groupe PSA's Hordain plant, France.
The companies said the aim of the deepening collaboration is for 'both companies to use their respective strengths to offer both compact and mid-size light commercial vehicles in Europe, benefiting from development and production cost optimisation'. Toyota will participate in the development and industrial investment costs for the future light-commercial vehicle.
From January 2021, Toyota will take financial ownership of the Toyota Peugeot Citroën Automobile Czech s.r.o. (TPCA) plant in Kolin (Czech Republic), the manufacturing joint venture that produces the compact A-segment models.
The TPCA joint venture was created by PSA and TMC in 2002 and included a review clause that allowed each partner to reconsider their shareholding.
The Kolin plant will become a subsidiary of TME, joining the seven other plants Toyota already operates in Europe.
The Kolin plant will continue to produce the current generation compact A-segment models (Peugeot 108, Citroën C1, Toyota Aygo) for the two companies. However, it is unclear what models will be made at the plant when current model cycles finish and the plant becomes 100% Toyota-owned from 2021.
Toyota also said it 'intends to continue production and employment in the future at the Kolin plant'.
Marking the agreement, TMC Executive Vice-President Didier Leroy said: "Today's announcement reflects the complementarity and excellent relationship that exist between Groupe PSA and Toyota. Our agreement allows each company to play to its strength while sharing technology and development costs. Our commitment to the Kolin plant demonstrates Toyota's philosophy of producing cars where we sell them and our long-term manufacturing presence in Europe."
Carlos Tavares, Chairman of Groupe PSA's Managing Board, added: "We open a new chapter of our successful and mutually beneficial partnership, based on our trusting relationship for the best advantage of our clients, and our companies."