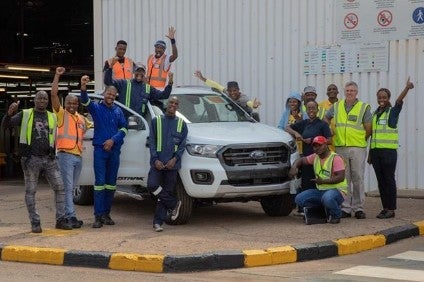 Strong demand for the Ranger pickup truck it produces both for local sale and export has led Ford South Africa to add a third shift from August 2019.
It claims it will add 1,200 new jobs "including 104 skilled artisans and technicians" and that the expanded production adds about 10,000 new jobs "within the total value chain".
Three shifts will boost production from 506 to a peak of 720 vehicles a day.
Ford also claims it turnover accounts for 1% of South Africa's GDP, making it a significant player in the country's manufacturing sector and broader economy.
Local vehicle assembly operations are said to now support 60,000 jobs in and outside Ford SA.
"The three billion rand investment in our South African plants, announced in 2017, is now coming to fruition with the addition of a third shift to increase our production output," said Ockert Berry, operations chief for Ford Middle East and Africa.
"The investment enabled extensive reworks at the Silverton Assembly Plant to expand our production capacity from 124,000 vehicles per year to 168,000 units, which is 58 000 vehicles more than our original capacity when the current Ranger programme commenced in 2011."
A three shift pattern will operated from Monday to Thursday with an extra Friday third shift available to address any shortfalls in the schedule.
About two thirds of production is exported to 148 markets with the rest sold in South Africa and sub-Sahara African countries.
The Ranger – a top selling model in Australia and New Zealand – leads SA's light commercial vehicle (LCV) sector exports and is also ranked consistently as the top selling pickup in Europe.
As demand continued to grow in Europe, Ford began exporting vehicles through Port Elizabeth in April 2019 – a strategic move to address the high level of congestion at the Durban Harbour's Roll On Roll Off (RORO) Terminal which is the country's primary import and export hub.
The multi-port strategy makes effective use of Transnet's rail infrastructure to transport vehicles from the Silverton plant to the Port Elizabeth vehicle terminal. Approximately 1,000 Rangers are being exported via this new route each month, which has improved the efficiency and delivery timing to European markets.
Port Elizabeth is also home to Ford's Struandale Engine Plant which produces two global diesel engine lines.
Production commenced at the end of 2018 of the new two-litre bi-turbo and single turbo engines used in Ranger and Everest models.
Capacity is 120,000 engines per year and all got to Silverton.
Struandale continues machining component sets, comprising the cylinder head, block and crankshaft, for the existing 2.2 and 3.2-litre Duratorq TDCi engine.
Following recent investment and expansion, installed capacity climbed to 280,000 sets per year for export to Thailand and Argentina, and for local engine assembly.
The plant also ships engines to North America, China and several plants in Europe and has production capacity of 130,000 units.