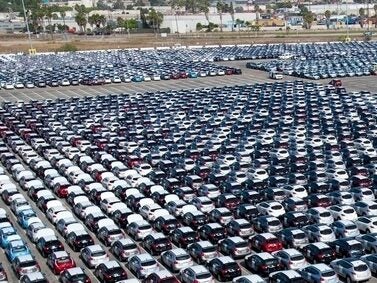 Analysts at LMC Automotive have cut their forecast for near-term sales and production in the US.
After a year-on-year drop of 25% in September light vehicle sales due to the chips shortage, LMC forecasts that October will see a 24% drop versus the same month last year. LMC also forecasts that daily retail selling rate will hold at around 34,000 units – the same as September but down from 42,000 units in October 2020.
The annualised selling rate for US sales is expected to rise to 12.8m units, which LMC notes is severely depressed on normal levels. Q4's annualised running rate is expected to average 13m units.
The recovery in vehicle production is not expected to start replenishing inventory levels until late 2022 or early 2023, leading LMC to cut its 2021 US light vehicle sales forecast by 700,000 units to just under 15.0m units – just 500,000 units more than 2020.
LMC said retail sales account for most of the reduction and are now forecast at 13.0m units for 2021, down from 13.7m. LMC also said its forecast fleet sales were reduced by 4% to 1.9m units, 13% f all light vehicles – the lowest fleet share in 15 years.
LMC Automotive analyst Jeff Schuster said: "While some assembly plants are slated to come back online, other plants have had downtime extended and new stoppages have been added, creating a chaotic environment in manufacturing in North America and globally. Risk remains elevated well into 2022 given the short supply of semiconductors and other parts. While the recovery, in terms of volume and timeframe, has been downgraded several times over the past three months, volumes are projected to gradually improve over the next 12-18 months, and the market may finally be closing in on the peak lows."
See also: US vehicle market down 25% in September