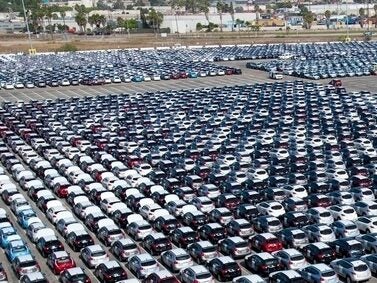 Depleted stocks due to the chips crisis dragged down US vehicle sales to their lowest level for the month of September since 2010, according to LMC Automotive.
Automakers sold just under 1 million light vehicles in September, down by 25% YoY. The annualized rate fell to 12 million units, the same level registered in May 2020 and 1 mn units under the August SAAR.
September had the same 25 selling days from a year ago, and not even the typically strong selling Labor Day weekend could pull up volume. Retail sales of 866,000 units drove the decline in the month, while fleet sales are estimated to have fallen by 15% YoY.
Average transaction prices broke the US$42,000 threshold for the first time and incentives remained below the US$2,000/unit. Even though dealers are paying premiums for trade-in vehicles, affordability is adding an extra barrier to new vehicle sales as rising prices may not be offset by higher trade-in values, pushing some consumers out of the new vehicle market.
Q3 Light Vehicle sales totalled 3.36 million units, down by 14% YoY and the lowest Q3 since 2011. Q3 volumes plunged 22% from the pre-pandemic level in Q3 2019.
Augusto Amorim, Senior Manager, Americas Vehicle Sales Forecasts, LMC Automotive, adds: "The quarter ended with some important changes in sales ranking. Toyota outsold General Motors by 123,000 units. September was such a weak month for GM that four other OEMs had stronger volume performance, with Hyundai topping GM for the first time ever. Stellantis ended the quarter ahead of Ford, and Hyundai outsold Honda. The Ford F-150 was the only model to sell more than 100,000 units in Q3, followed by the Toyota RAV4 and Chevrolet Silverado. The surprise was that the Jeep Grand Cherokee and Toyota Camry were also among the best-selling top 5 models. As the Detroit 3 have been hit particularly hard by the parts shortages, imported vehicles have gained ground in the US. They accounted for 25% of sales so far this year, up by 2 pps from a year ago."