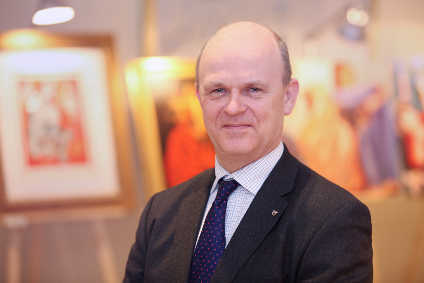 AvtoVAZ is describing its recent sales performance as "robust," as its own data bears out figures from the Association of European Businesses (AEB) showing a modest recovery in the Russian vehicle sector.
The AEB released numbers recently showing April sales rose 6.9%, while the AvtoVAZ Lada brand saw sales increase 7% in April to 26,300, with the manufacturer's overall sales also rising.
"I think the trend is now robust," AvtoVAZ CEO, Nicolas Maure told just-auto on the sidelines of last week's St Petersburg International Economic Forum (SPIEF). "AvtoVAZ released its May sales and we are more than 10.5% increase year on year.
"The year is not done – we are five months [in] and I think we will stay on that kind of increase until the year end. Overall the market will be between +5% and +10%, which is good news for everybody, for carmakers and suppliers.
"There is a clear restart especially for automotive which comes up [from] one of the most depressed sectors. Now the thing is how to speed up the capacity especially with suppliers, so it may even be a kind of paradoxical situation where we have demand and we can't supply."
AvtoVAZ retains a high level of vertical integration, producing its own castings, stamping and plastic injections for example, but the CEO notes the Russian manufacturer is slowly introducing some Renault-Nissan Alliance production techniques, with a target to complete that process within three years.
"This means we still have some excess people and the plan is to create an industrial park in Togliatti [AvtoVAZ HQ] next to the park where we invite suppliers to come and also third party companies," added Maure. "Sperbank [for example] will start a call centre, they will take 1,000 people.
"We may have some excess white collars, but also blue collars and the challenge is how to transform blue collars into call centre employees, but I am quite confident we will. We don't have so [many] third party suppliers – maybe we do some outsourcing but it is not for the two years to come.
"It was the genesis of AvtoVAZ, it had to be vertically integrated because there was no supplier industry at the time."
The Russian government has been encouraging import substitution as a way to counter the effects of international economic sanctions, but also exports to take advantage of weak ruble for the past couple of years, although the currency has notably appreciated recently.
"When you look at the history of AvtoVAZ and Lada, the highest export volume was 350,000 cars during the 1980s," said Maure. "The drive was more to get hard currency [and] this led to a significant car fleet in some countries.
"For example, in Cuba they have more than 100,000 Lada cars and most of them are still running. [Now the] Lada 4×4 has huge potential, so this is what we are thinking for export strategy, to have a very strong portion based on the 4×4, which is going to be a worldwide niche product.
"For the rest of the line-up we are of course looking at the countries of the CIS. We have around 25% market share in Kazakhstan, more than 10% in Belarus and are also exporting significantly to Azerbaijan.
"The rest is mainly Middle East, Africa and Latin America. In the Middle East we made a pilot test in Lebanon that will be extended to Jordan. Speaking about Cuba, we will ship the first cars in July. We are already in Chile, Peru [and] Bolivia, but we think we can do much more."