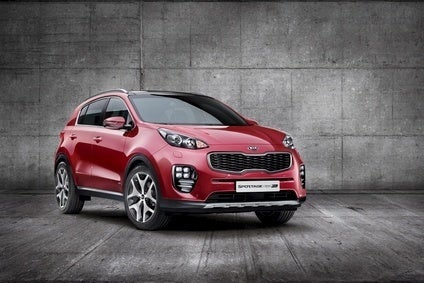 Hyundai Motors affiliate Kia Motors has released the first 'official' exterior images of the redesigned, fourth generation Sportage. The medium size SUV will make its global debut at the Frankfurt show on 15 September.
"Echoing the contrast of smooth and sharp shapes found on some of the most iconic modern fighter jets, the Sportage creates visual harmony out of the tension between sharp, defined feature lines and smooth surfacing," the automaker said.
"The 'face'… represents the biggest change to the design, with the headlamps no longer integrated with the grille for the new model, instead sweeping back along the outer edges of the more sharply-detailed bonnet and bolder wheel arches. Immediately recognisable as a Kia, the Sportage's lower, wider 'tiger-nose' grille adds more volume to the lower half of the Sportage's face, resulting in a more imposing appearance and a more stable-looking stance.
"Inspired by the 2013 Provo concept car, the slim combination tail lamps are joined by a strip that runs the width of the rear while turn signals and reversing lights are separated and relocated lower down "to add more visual weight and a greater sense of stability to the lower half of the car".
Design was led by the automaker's European design studio in Frankfurt, Germany, with input from the Namyang, Korea and Irvine, California design centres.
The current Sportage, called the Zhi Pao in China, is built there and in Slovakia, as well as at 'home' in South Korea. Although Kia has not confirmed it, the model has also been tipped as a future 'compact' model for Kia's Pesqueria plant near Monterrey in the northeastern Mexican state of Nuevo León which is due to be completed in December. It will build its first series production cars – starting with the NAFTA Forte – in mid-2016.
The next generation Sportage should also be made in South Korea, China and Slovakia.