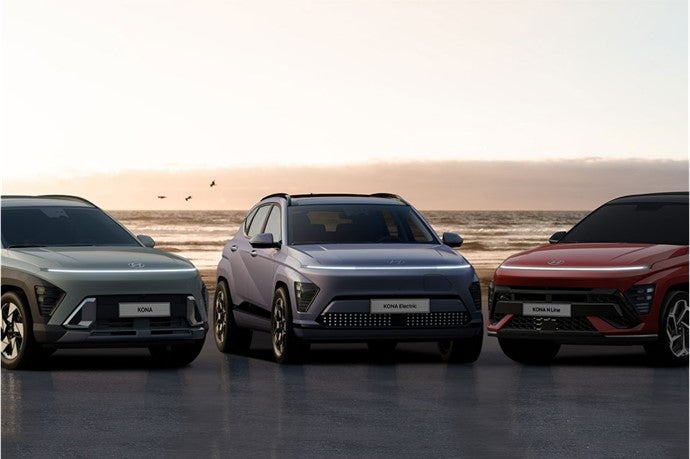 Domestic sales by South Korea's five main automakers combined rose 27% to 141,132 units in March 2023 from weak year earlier sales of 111,204 units, according to preliminary wholesale data released individually by the companies.
As usual, the data did not include sales by low volume commercial vehicle manufacturers or sales of imported vehicles which are covered in a separate report.
Sales last month were lifted by recent new model launches by the country's two main domestic brands, Hyundai and Kia, while improved supplies of semiconductors also helped boost domestic vehicle production following shortages in the same period of last year.
Hyundai sales surged 41% to 74,529 units in March while Kia sales rose 18% to 53,364 units and KG Mobility, previously SsangYong Motor, enjoyed a 75% rebound to 8,904 units.
In contrast, GM Korea local sales plunged 53% to 1,699 units while Renault Korea sales were down 41% at 2,636 units.
In the first quarter of 2023, overall domestic vehicle sales increased by 22% to 366,157 units from 300,281 units in the same period of last year.
Global sales by the five big automakers, including vehicles produced overseas by Hyundai and Kia, increased 20% to 730,181 units in March from 609,557 units a year earlier, while cumulative sales were 14% higher at 1,939,048 from 1,707,436 units.
Overseas sales increased 18% to 589,049 units last month from 498,353 units, while year to date volume was 12% higher at 1,571,831 units from 1,400,050 units previously.
Hyundai Motor global sales increased 21% to 381,885 units in March from 314,704 a year earlier, reflecting strong domestic and overseas sales following a number of recent new model launches and improved semiconductor supplies. The company said it sold over 24,000 EVs in March, with the Ioniq 5 and Ioniq 6 accounting for more than half of these.
First quarter global sales were up 13% at 1,020,316 units from 902,691 in the same period of last year.
Domestic sales surged 41% to 74,529 units last month from weak year earlier sales of 52,883 units, resulting in YTD sales rising 26% to 191,047 from 152,098 units, helped by strong demand for the redesigned Grandeur sedan and Ioniq 6 EV. The company launched the new Kona compact SUV in March with the new Santa Fe and Ioniq 5 N set to follow later in the year.
Overseas sales increased 17% to 307,356 units in March from 261,821 units while first quarter deliveries were up 10% at 829,269 from 750,593, helped by strong sales in the Americas, Europe, India and south east Asia.
Hyundai has set a target to increase global sales by almost 10% to 4.32m units in 2023, helped by "optimised business strategies tailored for each region". This includes 3.54m overseas sales and 781,000 at home.
Kia global sales increased 11% to 278,275 vehicles in March from 251,027 a year earlier, driven by strong domestic and overseas demand. First quarter sales were up 12% at 767,700 units from 685,738 a year ago, driven by strong demand for the Sportage, Seltos and Sorrento SUVs and helped by improved supplies of semiconductors.
Domestic sales rose by 18% to 53,364 units last month from 45,146 with the Sorento and Sportage SUVs and Carnival MPV the best selling models. First quarter sales were up 17% at 142,664 units from 121,842.
Overseas sales rose 9% to 224,911 units in March from 205,881 units a year earlier and were up 11% at 625,036 YTD from 563,896, reflecting robust demand in key regional markets including North America, Europe, Middle East, India and Africa.
Kia has targeted increasing global sales by 10% to 3.2m in 2023, including 585,120 domestic and 2.61m overseas. The automaker said it would continue its transition to become a sustainable mobility solutions provider through new models, including the EV9 launched last month.
GM Korea global sales increased 64% to 40,781 vehicles in March from 24,821 units a year earlier, reflecting surging exports while domestic sales continued to plunge. Cumulative three month sales were up 37% at 83,223 units from 60,583 a year earlier.
Exports jumped 84% to 39,082 units last month from 21,212 units a year earlier after the company began production of the Trax crossover at Changwon in February.
Overseas shipments were up 49% at 79,386 units YTD from 53,184.
Local sales fell 53% to 1,699 units last month from 3,609 units a year earlier, while first quarter volume was 48% lower at 3,837 from 7,399, reflecting increasingly tough competition from Hyundai and Kia.
Earlier this year the company said it planned to launch six new and upgraded models in South Korea this year, including the new Trax, the imported GMC Sierra pickup truck and the Cadillac Lyriq EV.
Renault Korea global sales rebounded 50% to 15,621 vehicles in March from weak year earlier sales of 10,409 units, reflecting a strong surge in exports.
First quarter global sales were still down by almost 9% at 32,816 units from 35,236 units.
Local sales continued to plunge last month, by 41% to 2,636 vehicles from 4,464 a year earlier, as the company continued to struggle with rising competition from domestic and imported brands, while YTD sales were down 53% at 5,970 from 12,629 units.
Exports more than doubled to 12,985 in March from 5,945 while YTD volume was up 14% at 25,846 from 22,577 a year earlier, reflecting reported difficulties earlier in the year in securing ships to export its XM3 and QM6 models to Europe.
KG Mobility (nee Ssangyong) reported a 58% jump in global sales to 13,619 vehicles in March from 8,596 a year earlier, reflecting surging domestic and overseas sales as confidence in the company continued to rebound following last year's successful takeover by a consortium led by local steel and chemicals firm KG Group.
YTD sales were up 51% at 34,993 units from 23,188 a year earlier.
Domestic sales surged 75% to 8,904 units last month from 5,102 a year earlier and by 58% to 22,819 YTD from 14,478.
At the Seoul Mobility Show this month, KG showed its new battery powered Torres EVX SUV which it claims can travel up to 500km (300 miles) on a single charge. It is scheduled to hit the market in the second half of the year.
The company also displayed three battery powered models at the show, the O100 pickup truck built on a dedicated EV platform, the F100 based on the Rexton SUV and the subcompact KR10 SUV.
Exports rose 35% to 4,715 units last month from 3,494 and by 25% to 12,294 YTD from 9,800.
In recent months the company has secured significant export contracts from Middle East distributors.
South Korean automakers: domestic/overseas sales by brand, March 2023