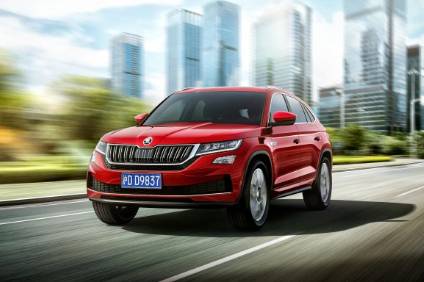 VW Group-owned Skoda brand is aiming to double its share of the Chinese car market according to a report in the China Daily newspaper.
The report cited remarks by Skoda CEO Bernhard Maier at the recent China International Import Expo event in Shanghai.
"At present, Skoda accounts for 1.6 to 1.7 percent of the Chinese automobile market, which is not enough. Our goal is to double that," Maier reportedly said.
Skoda unveiled its locally built Kodiaq GT SUV at the expo event, reinforcing its ambitions in the Chinese vehicle market. Kodiaq GT is built at SAIC Volkswagen's Changsha, Hunan, plant.
According to just/auto QUBE's PLDB service, the Kodiaq GT – an additional model for China, with an extended 4.63m length – forms a part of Skoda's ambitious goal to be building and selling 1,500,000 vehicles a year by 2020.
SAIC Volkswagen also revealed this second Kodiaq bodystyle at the Guangzhou motor show in November 2018. For the moment at least, it is exclusive to China.
The GT is more curved in its styling than the Kodiaq and at the rear has Š K O D A in large letters across its tailgate. At the time of its market release, this model extended Skoda's SUV line-up in China to four vehicles: Kamiq, Karoq, Kodiaq and Kodiaq GT.
"The Kodiaq GT continues to offer what we stand for with our 'Simply Clever' solutions – functionality and good cost performance," said Michael Arndt, executive director of Skoda's marketing and sales business at SAIC Volkswagen.
In 2017, Skoda delivered 325,000 vehicles in China – one in every four Skodas delivered worldwide last year.