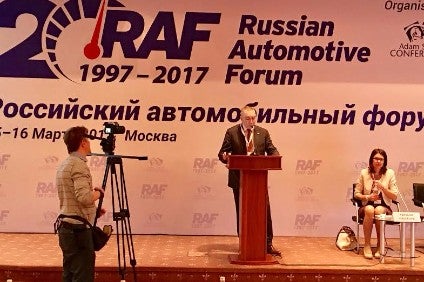 GAZ Group's component division says it is actively seeking to source more Russian suppliers as the company continues its drive to launch new products and cut costs.
The Nizhny Novgorod Autocomponents operation increased revenue by 24% and reduced costs by 7.5% in 2016, working both for Daimler and Chrysler in Russia as well as supplying its parent, GAZ Group.
"We work with both Russian and foreign suppliers," said Autocomponents director, Kiril Epshteyn, at last week's Russian Automotive Forum organised by Adam Smith Conferences in Moscow. "As an OEM, I would find it more convenient to work with Russian suppliers if they could do what Daimler required – we are working on that.
"We are importing certain elements of the body – we import from abroad electrozinc and we are now trying to find a supplier of heated zinc locally. It is difficult, it is hard, there is a possibility to substitute locally, metal parts.
"We already export components, we don't export vehicles. We want to be a reliable supplier here and in the future a reliable supplier for foreign markets.
"Every joint venture has its free, unutilised capacity. We work only in one shift and we have unutilised capacity. If Kamaz [for example] wants us to do something, we would do that, we will make a very competitive offer."
GAZ Autocomponents supplies parts to almost all car manufacturers in Russia, for example providing stamping to Daimler and Chrysler in the country and crankshafts to the Renault-Nissan Alliance.
Despite the undoubted headwinds facing Russia, not least rouble depreciation, inflation, credit access difficulties and fluctuating oil prices, all those pressures are nonetheless starting to ease, providing a much-need fillip to suppliers such as Autocomponents.
"In 2015, sales of parts amounted to RUB837m" (US$14.5m) added Epshteyn. "By 2025 it will be almost RUB1bn. [Some] 55% has already been localised, 45% is what we can localise. What [does] GAZ Group [do] about import substitution and localisation? We made a real breakthrough at the Yaroslavl engine factory – we localised…for around 80%.
"Colleagues there now finish treatment of the crankshaft and in 2017 we are going to supply other components there. In 2015 we signed a very serious contract with Daimler and we are supplying stamping of the A Class – this is a very serious project for us.
"We [also] started supplying crankshafts and we started doing pre-machinery for Ford, [while we] do our sales not only to GAZ, but to Skoda and Volkswagen [as well]. As for our main products, in 2017 we started supplying front access for buses of 9.5m length.
"Our joint ventures are involved in import substitution – let me remind you GAZ Group has two joint ventures – Bulten Group and Bosal."