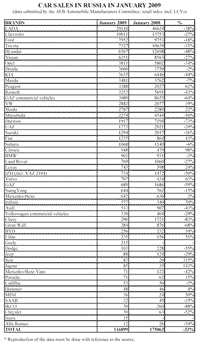 Sales of passenger cars and light commercial vehicles in Russia decreased by 33% in January 2009, according to data released today.
A report from the Association of European Businesses (AEB) showed a total of 116,899 cars were sold in January, including imported and Russian vehicles, down from 174,488 in January 2008 and 44.5% down from 210,293 in December.
Among the top 10 bestselling models in January 2009, eight were produced in Russia.
"This is the first time we are starting the year with a negative result after a long period of stable sales growth in Russia," said David Thomas, AEB Automobile Manufacturers Committee chairman.
"The combination of a global downturn and restricted availability of credit are clearly having an impact on the Russian market."
The AEB Automobile Manufacturers Committee's forecast for 2009, on passenger cars and the LCV market has been updated to 1.9m, AEB said, which would be a significant fall on the 3.2m sold in 2008.
Martin Jahn, vice chairman of the AEB Automobile Manufacturers Committee said: "January result is not an indication of the market trend for the whole year, because in January, the sales are normally slower; however the earlier announced forecast of the AEB AMC has to be revised."