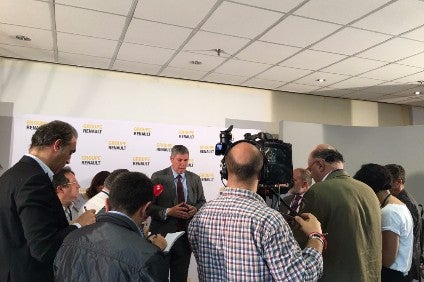 Renault is hailing its work with Spanish unions as an example of industrial relations prowess as the automaker embarks on radical implementation of 4.0 techniques.
The global manufacturer has inked three landmark deals with its Spanish labour bodies, within which the small print has survived the chronic downturn of 2009 to emerge as something of a template.
"For Spanish people, the relations we have with unions are an example in the industry," Renault global EVP manufacturing and supply chain, Jose-Vicente de los Mozos told just-auto at the carmaker's Valladolid plant. "We signed three competitive agreements in three different environments.
"In 2009, Vallodolid was close to be [ing] closed. In 2012, in one of the worst moments in Spain, Renault proposed a second, competitiveness plan. We have been the only carmaker to make commitment about volume. At the [time] it was not normal. After that many people transferred production to Spain [and] in 2016 we signed another competitiveness agreement."
Renault made its comments at the Valladolid plant in the arid plains around 75 minutes north west of Madrid as it progressively implements production digitalisation using lean manufacturing and streamlined logistics.
The French automaker's adoption of Industry 4.0 techniques operates at the digital level but also on a more practical basis, such as using full kitting to do away with lineside stock, leading to a relatively uncluttered shop floor compared to previously.
Both Renault and partner, Nissan, use Alliance Production Way standards across their 36 manufacturing and logistics sites worldwide, allowing cross-working between them, demonstrated, for example, by the Micra built at the Flins plant in France, but is keen to stress its industrial relations nous.
"You can not do this [agreements] if you do not have the confidence with unions," added Mozos. "Unions need to protect their workers' interest. Today if you don't have confidence with the unions in the company it is difficult. For me it is a key point to develop this type of relationship with the unions.
"The car industry is living a big change in the short and medium term – more connected [and] more autonomous [while] we are living the revolution of cyber customers. The factory needs to be ready to produce – it is for that we are going to change the processes.
"The fourth industrial revolution has already started. We have chosen three pilot plants; the first, France is our main and we decided [on] Cleon, the second, Valladolid and the third, Curitiba in Brazil. We will standardise and deploy [techniques] around the world.
"We think the human is the centre of the plant in future. We need to listen to the unions, how to balance personal and professional life. That means new employment. I know everybody is worried about employment because of robots [but] we need connected people, connected machines and connected processes.
"Young people are very close to digitalisation – in this context we have developed 4.0 and we want to use the creativity of young people for new applications."
The Valladolid plant showed off several aspects of Renault's thinking with for example, debulking robots used to pick up, replace and empty parts into trays while autonomous units such as collaborative robots and automated guided vehicles were very much in evidence on the shop floor.
As well as these innovations, Renault will eventually phase in wi-fi and apps allowing staff to access information such as holiday requests, site closures and training from smart phones.
Valladolid also uses tablets, allowing team leaders real-time access to production and quality data with pictures helping them to explain an issue with instant messaging.
Supervisors at 13 plants will be given tablets by year end with Renault maintaining their provision can save 90 minutes per day.