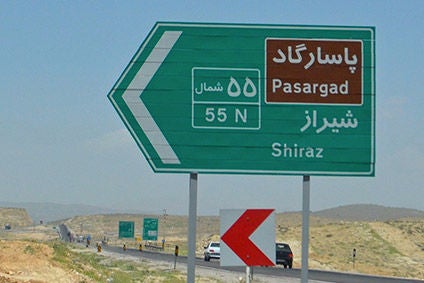 Groupe Renault has inked a joint venture agreement with Iranian partners, Industrial Development & Renovation Organisation (IDRO) and Parto Negin Naseh to produce 150,000 vehicles per year in the country.
The proposed joint venture company, of which Renault will be the majority shareholder, though with a first period of joint control with IDRO and Parto Negin Naseh, will include an engineering and purchasing centre to support the development of local suppliers.
There will also be a plant with an initial production capacity of 150,000 vehicles a year, supplementing Groupe Renault's existing capacity of 200,000 vehicles a year in the country. First vehicles to be produced at the plant will be the new Symbol and Duster models.
In addition to the vehicle site announced in September last year, an engine plant is also planned with a capacity of 150,000 units per year. The manufacturing facilities will be in Saveh, 120 km from Tehran, owned and operated by the joint venture company.
The agreements also provide for the development of an exclusive Renault distribution network, in addition to the existing one of Negin Khodro.
"We are happy to sign this agreement with IDRO and Parto Negin Naseh," said Renault chief competitive officer, Thierry Bollore. "In a rapidly expanding Iranian market, it was vital to implement plants, engineering and [a] purchasing centre.
"This joint venture will enable an acceleration of our growth in this country."
Groupe Renault has been in Iran since 2003 through a joint venture with Saipa and Iran Khodro. Renault and its Iranian partners have produced 500,000 vehicles to date.
In 2016, Groupe Renault sales increased 110% year on year, for a total 108,536 vehicles and an 8.4% share of the market.
In first-half 2017, group sales in the country increased 100% year on year, for a total 68,365 vehicles and a 9.7% share of the market.
"The development of a commercial network specific to our brand will reinforce Groupe Renault's position in Iran," added Renault chief performance officer, Stefan Mueller.
"The signing of this new joint venture reinforces the choices we have made in Iran and will open new perspectives in a 2m vehicle market projected in 2020.
"Our Group as the owner of Negin Khodro, the existing establishment for Renault Network in Iran, is proud to be part of this industrial development."
For his part, Negin Holding chairman, Naser Haddadzadeh, noted: "As a family-owned private business in the country, NH Group envisages this joint venture with Renault and IDRO, as another possibility of a long-lasting partnership with Groupe Renault for years to come."
Renault's joint-venture with Saipa and and Iran Khodro will continue to produce and deliver the current range: Tondar, Tondar pick-up, Sandero and Sandero Stepway, independently of the start of the new JV.
Entry into force and finalisation of the transaction remains subject to a number of conditions precedents, including regulatory approvals, formation of the new company and preparation of the industrial assets for the project.
The parties expect completion to take place on or around 30 October this year.