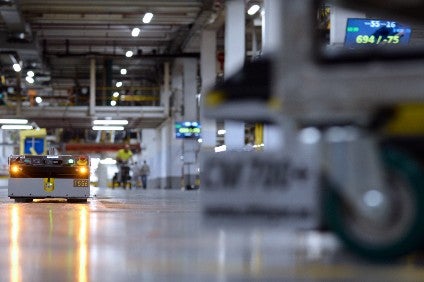 Renault says it is looking to develop its plants "from the inside" as it accelerates the use of Industry 4.0 philosophy across its network.
The French automaker outlined its thinking at its plant of Valladolid in north Spain, where concrete use of digitalisation is now present in areas such as component traceability, virtual training, predictive maintenance, collaborative robots and widespread use of automated guided vehicles, among many other technologies.
Some of that work is being aided by the fact younger people are so comfortable with using technology and Renault employs smartphones and tablets for example at Valladolid for training and HR purposes.
"We want to build our plant [s] to use young talent to give us what we want," said Renault digital transformation VP manufacturing and supply chain, Eric Marchiol during a tour of the Valladolid plant this week. "This plan is driven by manufacturing because we think it is our job to change our plants from the inside.
"Valladolid is one of the best plants in lean manufacturing and is one of the leaders in proposing new ideas which will [be] implemented in all plants. We need to build very flexible wi-fi network in all our workshops – it is nearly at 80% now.
"We also have some older machines and stamping lines, so how to connect all this? You need to have this basic information from sensors. We have 300 stamping presses connected to give us useful data, [while] we have 5,000 robots [of] many types and brands.
"We can optimise consumption using an internal sensor and increase quality optimisation for our customers."
Renault also employs its trace and trace programme to identify the more than 5,000 parts it has on each car and is teaming with suppliers on the initiative.
The manufacturer equally uses predictive maintenance to remotely monitor equipment using software to display date relating to machinery in real time. Technicians can now anticipate equipment failure, by receiving alerts on tablets and can connect to other sites or experts.
Predictive maintenance is being used at Renault's Cleon plant in France and will be extended to Valladolid, Sandouville and Cacia in Portugal.
"We will have instant, real-time data and will be able to make decisions in our supply chain to react to each problem," added Marchiol.