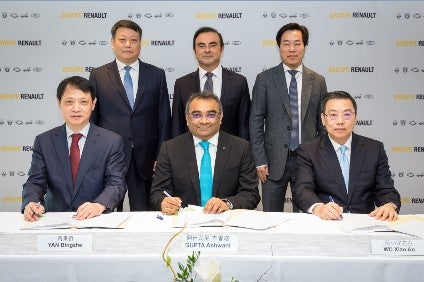 Renault and Brilliance China Automotive Holdings Limited (Brilliance), who earlier this year formed a joint venture to manufacture and sell light commercial vehicles (LCVs), have signed a 'Strategic Cooperation agreement' with officials from Liaoning Province to further accelerate the growth of LCVs in China.
Renault also confirmed plans for three new electric light commercial vehicles for China within two years.
A delegation from the Chinese government, including Mr. TANG Yijun, the governor of Liaoning province, and Mr. Yan Bingzhe, vice-mayor of Shenyang, met with Renault Chairman and CEO Carlos Ghosn, senior vice president of Renault LCV business unit Ashwani Gupta, Brilliance Auto CEO Mr. QI Yumin, Brilliance Chairman Mr. WU Xiao An, and other senior executives from both Brilliance and Renault, at Renault's corporate headquarters before signing the Strategic Cooperation agreement.
"Ten months after our initial launch of our joint venture in China with Brilliance, we have a local management team in place, LCV product plan to deliver further growth with seven LCVs for China including three electric LCV models, starting in early 2019. Our agreement with the local government in Liaoning province will strengthen our foundation for growth," said Renault Chairman and CEO Carlos Ghosn.
"The city of Shenyang and Liaoning province commit support to vehicle projects, new energies and R&D activities, industrial development, promotion of local suppliers and product development," said Mr Tang Yijun, governor of Liaoning province. "Renault Brilliance Jinbei Automotive Company will play a crucial role in the sustainable industrial development of Shenyang, in the revitalization of the local economy, promoting environment-friendly technical solutions and products and supporting the enterprises in the Liaoning Province."
In January, Renault and Brilliance signed a contract for the formation of a joint venture beginning in 2018, to manufacture and sell light commercial vehicles (LCV) under the Jinbei, Renault and Huasong brands with the goal of achieving 150,000 sales annually by 2022, and an acceleration of electrifying powertrains. Year-to-date since forming the joint venture, Jinbei brand sales hit 124,900 in September.
Renault-Brilliance-Jinbei Automotive Co., Ltd. is headquartered and has manufacturing operations in the Dadong District of Shenyang and is producing in three key segments – MPVs, medium vans and heavy vans – and will add electric LCV models to its range.
Liaoning Province is described by Renault as one of China's new automobile industrial hubs with over 120 auto & auto-parts manufacturers and is the largest provincial economy of Northeast China.
The Chinese LCV market forecast is put at 3m units per year, but 'growing and moving rapidly'. Renault says that increasing urbanisation as well as an e-commerce explosion make new and optimised logistics as well as inner-city transportation schemes necessary for both people and goods. Urban last-mile delivery is expected to grow by 125% by 2030, it says. China is also the biggest, fastest growing EV-market in the world.