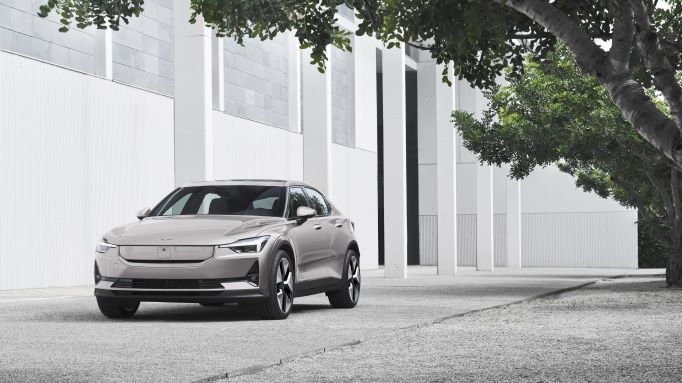 Polestar is following a recent Volvo EV upgrade by adding rear wheel drive variants to the 2 line.
New electric motors and inverters are fitted to all variants, offering claimed "substantial increases in both efficiency and performance".
Single motor variants are now rear wheel driven, powered by a new permanent magnet motor and silicon carbide inverter. The new motor has a power output of up to 220 kW (increased from 170 kW) and is optimised for maximum efficiency and high torque (490 Nm, up from 330 Nm). The 0-100 km/h sprint time has been reduced by 1.2 seconds to 6.2 seconds.
The dual motor version now has a rear drive bias said to increase driving pleasure and performance thanks to a completely rebalanced drivetrain setup and torque-ratio. The new rear motor is the primary drive source, supported on the front axle by a new asynchronous motor. This enables higher total system output of 310 kW and 740 Nm (increased from the original 300 kW and 660 Nm), vastly improved traction, greater overall efficiency and higher performance – 0-100 km/h is achieved in 4.5 seconds. Supporting efficiency gains, the front motor can now be disengaged completely when not needed. When the driver wants more power, the front motor re-engages instantly and seamlessly.
Up to 350 kW is available with the optional Performance Pack, and a 0-100 km/h sprint time of 4.2 seconds. The increase in power, performance and driving enjoyment is also available to purchase as a downloadable over the air performance software upgrade for any eligible long range, dual motor cars.
The 2024 model year Polestar 2 has a restyled front end. A SmartZone contains active safety features, including the front facing camera and mid range radar.
The 20-inch forged alloy wheels in the Performance Pack have been updated.
All versions, in "most" markets have upgraded lithium-ion batteries, with a positive impact on efficiency and capacity as well as charging times. Long-range versions now have CATL 82kWh batteries with 27 modules while the battery for standard range versions retains a capacity of 69kWh with 24 modules and is now supplied by LG Chem.
The updated batteries benefit from a redesigned battery disconnect unit, upgraded busbars and improved cell chemistry – enabling faster charging rates of up to 205 kW DC for long range batteries and 135 kW for the standard range battery.
Range improvements are in effect for all versions due to the larger and improved batteries, and the optimisation of power delivery from the more powerful motors. The front motor disconnect function on the long range, dual motor variant is particularly effective at maximising range, which is now up to 592km, an increase of 105km.
The standard range single motor version is now capable of up to 518km, an increase of 40km, and the long range single motor variant can now achieve up to 635km WLTP, an increase of 84km.
Standard equipment has been revised. Driver Awareness features are now standard, including Blind Spot Information System (BLIS) with steering support, Cross Traffic Alert with brake support, and Rear Collision Warning and Mitigation, along with the 360-degree surround view camera and automatic dimming exterior mirrors. Wireless phone charging is now also standard in all versions.
First deliveries are expected in the third quarter of 2023. Pricing starts at EUR50,190.