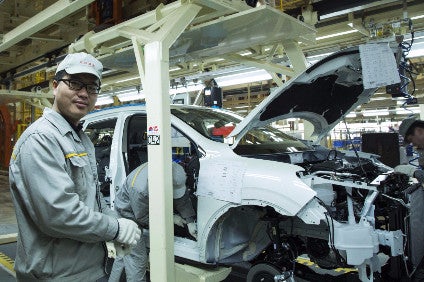 Automakers this week announced further extensions to their plant closures in China as the coronavirus outbreak continued to spread and claim more lives.
The latest data from the government showed recorded coronavirus infections had exceeded 30,000 in the country, claiming at least 640 lives.
US ratings agency S&P this week revised down its 2020 GDP growth forecast for China by 0.75% to 5%, from 6% in 2019, due to the coronavirus but suggested it did not enjoy the usual confidence in its data because of continuing uncertainty over the severity of the outbreak.
The shutdown was extended to cities outside Wuhan province and drastic measures were taken on a massive scale to force residents to remain indoors while images of deserted streets in Beijing and Shanghai have been broadcast widely on international news channels.
The key fear is that when businesses do reopen, the number of infections could jump dramatically as people are forced into close proximity on trains and in places of work.
Automakers and component manufacturers are monitoring events in China very closely and are ready to take countermeasures such as extending factory closures at short notice to comply with the latest government guidelines.
They are also taking independent measures to help limit the spread of the virus, such as allowing staff to work remotely.
Supply chain disruption is also a major factor in deciding to extend assembly line closures, not only in China but elsewhere too. Hyundai this week closed down all its plants in South Korea due to shortages of components from key Chinese suppliers and this is affecting other global automakers as the health crisis continues.
Toyota confirmed its vehicle plants outside China were operating normally for the moment but FCA warned on Thursday disruptions due to the virus outbreak in China could threaten production at one of its European plants within two to four weeks – reports suggested a critical component from China could soon be in short supply.
The latest China closure announcement came today (7 February) from Toyota, confirming all 12 of its vehicle and component plants in China would remain closed until 17 February – a week longer than previously announced.
The Nikkei suggested Toyota's shutdown could extend until late February.
Renault had said earlier it would extend the shutdown of its joint venture factory with Dongfeng Motor in Wuhan until 14 February from 10 February, in line with the latest government guidelines for factories in the city.
Earlier this week Honda confirmed it would comply with government guidance by closing its Wuhan joint venture factory with Dongfeng until at least 14 February. Similar measures have also been taken by automakers in the area, including PSA Group.
Major manufacturers in other provinces of China, including General Motors , Ford and Volkswagen Group, are currently expected to resume production on 10 February but this will likely change as the crisis continues to worsen.
Toyota and Hyundai have indicated they plan to diversify the sourcing of many components commonly made in China to other regions, including south east Asia.