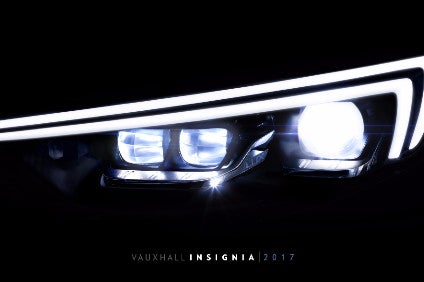 General Motors Europe's Opel and Vauxhall brands will launch the next generation of IntelliLux LED lighting with the redesigned Insignia Grand Sport in 2017. The latest lamps feature new functions that further improve night time visibility.
Having developed its matrix lighting technology in recent years, Opel/Vauxhall has introduced a 32-light system within the ultra-slim headlamps. The increased number of LED segments results in smoother transitions between lighting patterns to suit every driving condition. Automatically and constantly adapting the range and distribution of light from the headlamps, the new lamp delivers a brighter light in a precise manner, at all times managing to avoid dazzling other road users.
New functions, including curve and spotlight illumination, improve long-range visibility when driving at night. When taking a curve with the full beam engaged, the light intensity automatically rises based on the steering angle, in order to increase the illumination and help the driver to see the road situation ahead. Each headlight also features a high-beam spotlight for additional illumination up to 400 metres ahead, further improving long-range visibility.
"The new Astra shows the benefits of our IntelliLux LED headlights, and our engineers have been able to take it to another level with the Insignia Grand Sport," said Ingolf Schneider, Opel's engineering group manager, exterior lighting. "The second generation of this innovative technology introduces new features that improve visibility, and therefore safety, when driving at night."
First shown on the Monza concept in 2013, Opel/Vauxhall introduced IntelliLux LED matrix headlights in the Astra last year. Initially featuring a 16-light system, the automaker has been able to develop the technology significantly with the second generation, incorporating twice as many LED segments while maintaining an ultra-slim appearance.