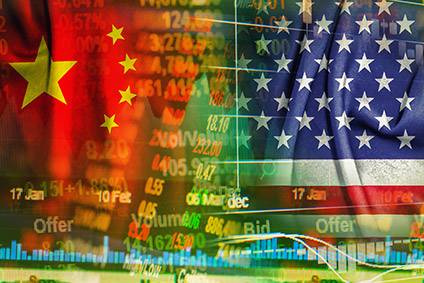 The prospect of a new round of import tariffs imposed on Chinese goods has hit stock prices on European markets this morning.
The Wall Street Journal reported that President Donald Trump is targeting Chinese imports to the US worth around USD200bn in a fresh round of tariffs – expected to be set at around 10% – that could be imposed early this week. The move would come ahead of high-level bilateral talks on trade between the world's two largest economies.
The Trump administration has already imposed 25% import tariffs on a range of Chinese goods, including cars. China has responded with tariffs on US imports.
Trading in auto stocks this morning shows a negative price movement trend on the back of positive sentiment that lifted auto stocks slightly at the end of last week when some analysts suggested trade tensions could be easing. Daimler AG's share price in Frankfurt has slumped from almost 76 euros at the end of January to around 55 euros today.
While the new round of tariffs on a new set of goods may not significantly directly impact auto companies on US-China shipments because they have already taken a 25% hit, they will dampen hopes of a reversal of policy and diffusion of tensions anytime soon.
Volvo Cars asks for tariffs exemption
Meanwhile, Geely-owned Volvo Cars has reportedly asked the Trump administration to exempt the company's Chinese-made XC60 SUV from 25 percent tariffs.
Reuters reports that Volvo has sought an exemption with the US Trade Representative's Office (USTR) for the car that accounted for nearly a third of its US sales in August.
"The imposition of the additional 25 percent duty on mid-size SUVs would cause severe economic harm," Volvo reportedly said in its letter, adding: "The burden of the 25 percent duty imposed on vehicles imported from China will also be borne by American consumers."
Volvo Cars recently put its planned IPO on ice, citing general concerns in the automotive sector and uncertainties over trade arrangements.