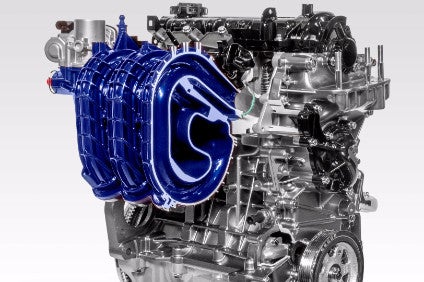 Brazil's Fiat Uno has been restyled for 2017 with a new front section resembling the Italian Panda with new headlamps, front grille and bumper – and important mechanical updates.
The focus was on a modern engine family and better efficiency. The completely new, modular one-litre, three-cylinder and 1.3-litre, four cylinder flexible fuel engines, both with aluminium engine block, are among the best on the market now.
These engines are from the Firefly family and launched first in Brazil. They'll eventually power European-made vehicles but FCA did not say which or when.
The single overhead camshaft and two valves per cylinder contrasts with most modern engines with multiple-valves, twin camshafts and variable timing.
But the result is very good becasue engineers made full use of the fuels in use here (E27 petrol and hydrous ethanol) with a compression ratio of 13.2:1.
Various balancing techniques were also applied to cut down three-cylinder vibration and harshness. This is noticeable when starting the engine as it idles smoothly and swift acceleration thanks to superior torque – 75.2lb-ft on petrol and 78.8lb-ft on ethanol.
Specific torque is the highest of all naturally-aspirated one-litre engines in Brazil, yet power of 71/76 bhp (petrol/ethanol) is well below, for example, Ford´s sophisticated, naturally-aspirated I3 with 79/84 bhp.
Some difficulty with motorway overtaking is thus expected. The remedy is to choose the 1.3-litre engine that pumps out 100/107bhp and 99 lb-ft/103lb-ft (petrol/ethanol).
Gains ion energetic efficiency were impressive; 14.4% for the smaller engine and 16.7% for the larger. Start/stop is standard on the latter with both the improved automated manual Dualogic transmission and the manual gearbox.
ESC and hill start assist are standard for top versions. Prices range from BRL41,840/US$12,900 to BRL53,690/$16,500.