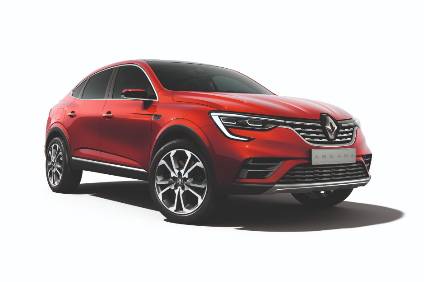 Renault has shown its Arkana show car, described as a 'distinctive coupe-crossover'. The Arkana previews a new Renault offer for the C-segment which will be introduced in Russia and some other markets in 2019.
However, there are no current plans for the Arkana to go on sale more widely in Europe.
According to just-auto/QUBE PLDB the Arkana is not a replacement for the Kaptur: it supplements that model. The basic platform from the second generation Clio is evolved yet again, this time gaining a new name 'Alliance B0+'. The B Zero Plus architecture is front-wheel drive and will likely be the basis for other R-N-M Alliance vehicles, including, potentially, Ladas.
Renault says the model 'proposes an astonishing balance between the elegance of a saloon and the sturdiness of an SUV'.
"The Arkana show car is a distinctive coupé-crossover, striking balance between the elegance of a saloonn and the powerful stance of an SUV. We have dialed in specific Renault cues, with a strong design, strength and sensuality with a French touch," says Laurens Van den Acker – Senior-Vice-President, Corporate Design of Groupe Renault
Renault said the Arkana will be later manufactured and sold in Asia and other regions, with 'this same unique design but adapted also to local customers' expectations'.
"The idea for this innovative concept came from Russia and the project was conducted with the strong involvement of Renault Russia teams. Arkana will meet Russian customers' aspirations but also the ones of new customers in many countries worldwide, enabling Groupe Renault to further pursue its international growth as part of its Drive the Future strategic plan," says Nicolas Maure – Senior-Vice-President, Chairman of Eurasia Region.
See also: Moscow motor show world debuts list