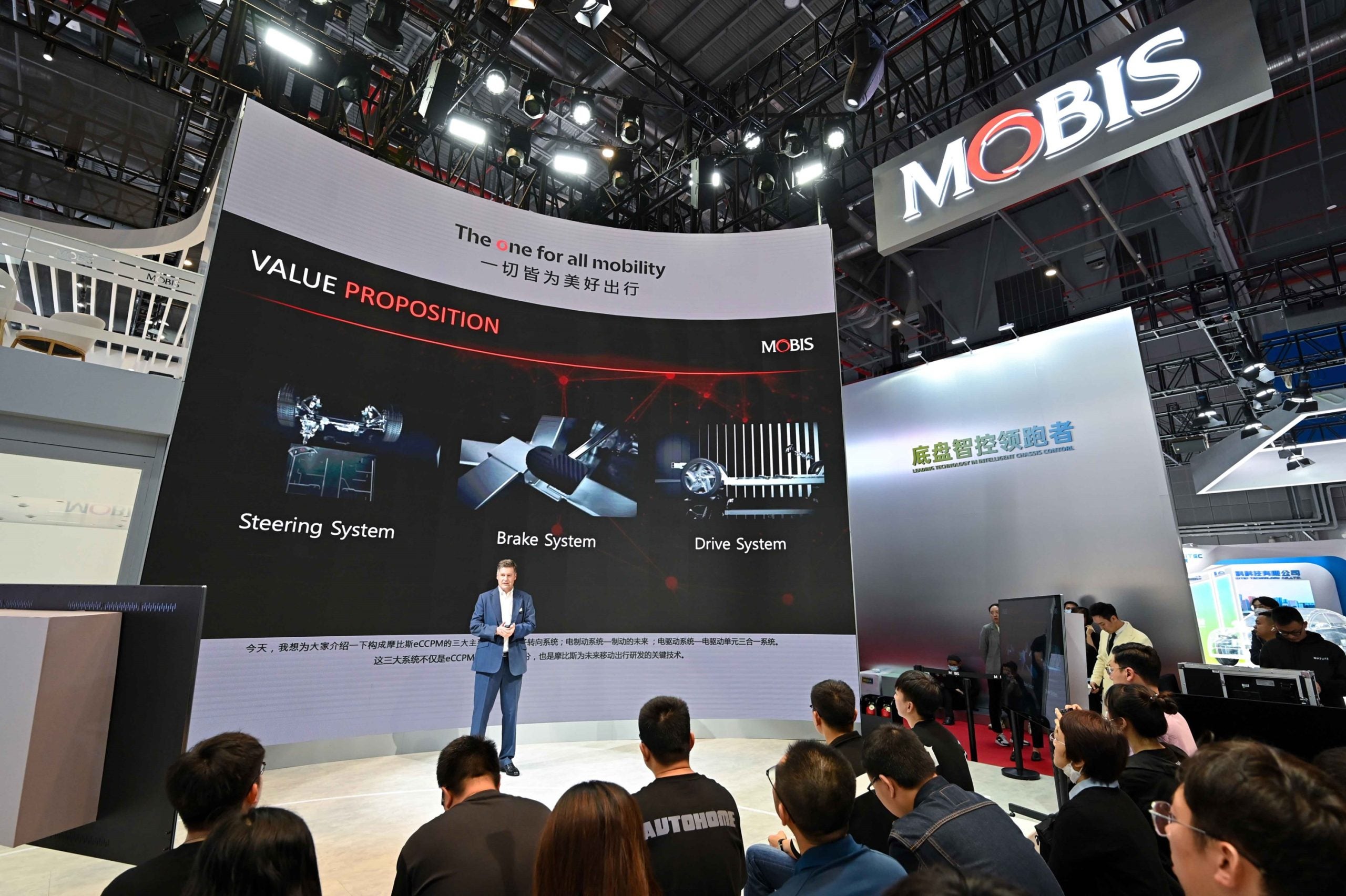 Supplier Hyundai Mobis said it was targeting US$1bn of revenue in China this year, up from $900m in 2022, due to surging demand for new energy vehicles (NEVs) there.
China is the biggest NEV market, with sales of battery electric vehicles (BEVs) surging 84% year on year to 5,364,000 units in 2022 while plug-in hybrid (PHEV) volume rose 153% to 1,523,000.
At the Shanghai International Automobile Industry Exhibition this week, the South Korean company unveiled 24 key new products, including the e-CCPM complete BEV platform aimed at the growing number of electric vehicle startups and newly launched NEV brands.
Executive vice president Axel Maschka said in a statement: "We will create new customer value based on our competitiveness with world class quality, as well as stable local sales and production organisations, in the fast changing EV market in China."
The company currently has seven factories in China plus an R&D centre. It has earmarked KRW10trn (US$7.5bn) for China investment over the next three years, including up to KRW6trn in electrified powertrains and related components, with the remainder for autonomous driving, advanced driver assistance systems (ADAS) and software development.
While Hyundai Mobis is putting significant effort into diversifying its customer base, it nonetheless remains a core part of (and supplier to) Hyundai Motor Group which accounts for around 90% of its global sales revenue.
Both Hyundai and Kia are looking to revive their sales in China after the sharp volume decline since 2016, after the political fall out over South Korea's agreement to deploy the US-made THAAD missile shield.
Hyundai-Kia combined sales in China reached only 340,000 units last year compared with close to 1.8m units in 2016.
In 2019, Kia shuttered its local JV Yancheng Factory 1 in Jiangsu Province, handing it over to local JV partner Dongfeng Yueda under a long term lease contract, media reports said at the time. The carmaker planned to produce vehicles such as the Sportage sport utility vehicle and the localized KX7 SUV at the plant until the end of May 2019 and a Dongfeng Yueda unit was to start producing electric vehicles in the first half of 2021.
The assembly plant had been established in 2002 by Dongfeng Yueda Kia, a JV between Kia (50%) and two Chinese partners, Dongfeng (25%) and Yueda (25%) with annual output around 150,000 units. Dongfeng Yueda Kia was until 2019 operating three factories, including Yancheng Factory 1, with capacity for around 890,000 units a year.
At the Shanghai show this week, Hyundai unveiled the locally made Mufasa compact SUV, scheduled to go on sale in June, the high performance Elantra N compact on sale later this year plus the Ioniq 5 N in 2024.
Kia plans to launch the EV5 and EV6 BEV SUVs this year followed by the recently introduced EV9 next year.