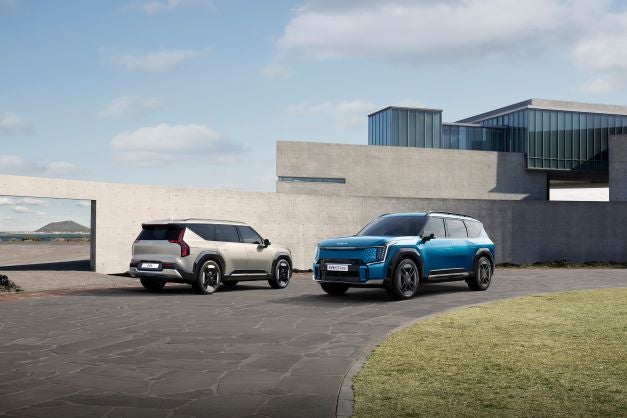 Kia has announced full details of the EV9, its first three row electric SUV.
Built on the Electric Global Modular Platform (E-GMP), it has a targeted range of 541km (336 miles) WLTP. 800-volt charging capability can recharge the battery pack for 239km (149 miles) in around 15 minutes.
Highway Driving Pilot (HDP), available for top GT-line trim "in the future will provide "conditional" Level 3 autonomous driving in some markets.
Kia Connect Store will enable owners to purchase digital features and services on demand and Over the Air (OTA) updates will be provided.
Kia will begin pre orders for South Korea market in the second quarter of 2023 and the EV9 will go on sale in some export markets from the second half.
The vehicle is built on a 3,100mm wheelbase, with 21-, 20- or 19-inch wheels. It's 5,010mm long, 1,980mm wide and 1,755mm tall.
A digital pattern lighting grille and vertical headlamps are used and there are two clusters of small cube lamps adjacent to each headlamp. Star Map LED daytime running lights (DRL) create a sophisticated animated lighting pattern.
GT-line versions have unique front and rear bumpers, wheels, and roof rack, black colour highlights and an exclusive digital pattern lighting grille.
Aerodynamic coefficient is 0.28 achieved through Kia's first 3D sculpted underbody cover, which features a convex shape at the front and a concave shape at the rear, along with aerodynamic wheels, and innovative air curtains integrated into the front bumper.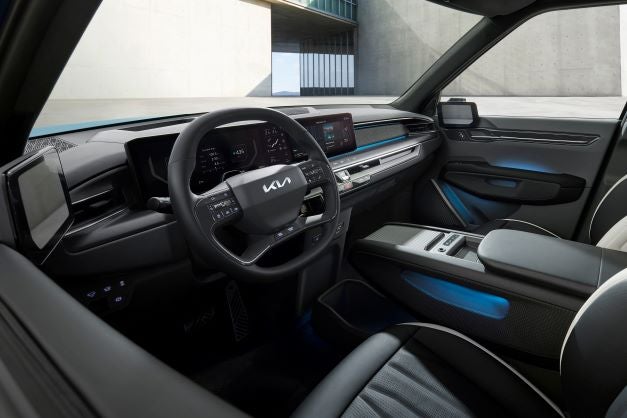 Seating options will include seven- and six-seat configurations. The first row features "relaxation" seats which ensure a comfortable resting posture. The second row options include three-seat bench, basic-type, relaxation-type, and swivel-type two-seat independent chairs.
When equipped with second row relaxation seats, the EV9 allows first and second row occupants to recline together while the SUV is charging. With the swivel seat option, the second row seats swivel 180 degrees to enable conversations with those seated in the third row. Occupants in the third row are provided with charging points and cup holders.
A choice of electric powertrain configurations includes a 76.1-kWh battery with the rear wheel drive standard model while a 99.8-kWh battery is fitted in both the RWD long range and all wheel drive variants.
The RWD long range model uses a 150kW/350Nm electric motor and accelerates from 0 to 100 km/h in 9.4 seconds. The 160kW/350 Nm standard RWD can do the sprint in 8.2 seconds.
The AWD variant is equipped with two electric motors and has total power output of 283kW and combined torque of 600Nm. This enables 0 to 100km/h in six seconds.
An optional Boost feature will be available for later purchase via the Kia Connect Store. Combined torque is increased to 700Nm, enabling 0 to 100km/h in 5.3 seconds.
The EV9 comes with Vehicle to Load (V2L) functionality through its integrated charging control unit (ICCU), enabling the discharging of energy from the vehicle battery. Passengers can use up to 3.68kW of power for laptops or camping equipment.
The Highway Driving Pilot system, which will provide conditional Level 3 autonomous driving, uses 15 sensors, including two lidars, enabling it to scan for and detect objects in a full 360 degree field of view, enabling it to detect and react to the road and other users to prevent potential collisions.
The car will be capable of conditional driving automation where conditions permit, enabling the driver to temporarily take a break from controlling the vehicle.
Upgradeable digital features and services include enhancing the digital pattern lighting grille with a lighting pattern feature.
Remote smart parking assist 2 (RSPA 2) is also offered as is content streaming through the infotainment system.
Numerous advanced driver assistance systems are standard along with pre- and post-driving safety and convenience features.
Digital Key 2 uses ultra-wide band (UWB) technology allowing users to open and start their car using a smartphone.
The chassis frame structure has an exceptionally high torsional stiffness and the claimed world's first patent pending B-pillar connection structure technology featuring an extended overlap between crash barrier and side sill.
The EV9 will be shown first at the Seoul Mobility Show 2023 later this month and the New York International Auto Show early in April.