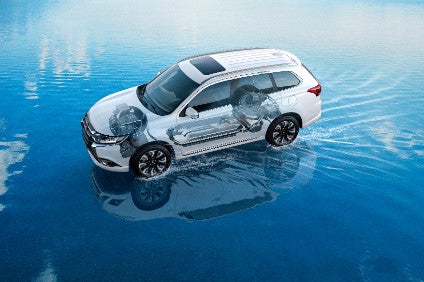 Mitsubishi Motors Europe has passed the 50,000 deliveries milestone with its Outlander plug-in hybrid EV SUV two years after the first sale to a Dutch customer in October 2013.
The automaker continues to claim the model is the best selling plug-in hybrid vehicle in the 34 markets it classifies as 'Europe' (which excludes Russia where sales and service are handled by a separate importer/assembler). The top six countries by sales are: The Netherlands (20,346 units), UK (16,290 ), Sweden (4,433), EV-friendly Norway (3,797), Germany (3,015) and France (1,594).
The Outlander PHEV made its global public debut at the 2012 Paris show and, MME said, "ventured into uncharted territory, creating an all-new segment while solving the traditional 'range anxiety' issue of conventional electric cars and adding the real-life convenience of a vast D-Segment SUV".
In the MME34 territory, the PHEV version accounted for 15% of the brand's volume and 55% of Outlander sales in January to November 2015.
The Outlander was facelifted for the 2016 model year.