VEHICLE ANALYSIS: Mitsubishi's top-selling Outlander PHEV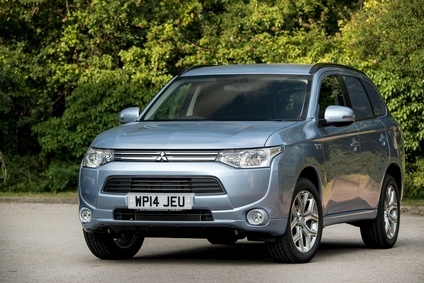 Given Mitsubishi's form with SUVs, Outlander is an ideal basis for the brand's first PHEV
Ping goes the inbox. A welcome new email comes from our colleagues at JATO Dynamics with the latest eight-month YTD European PHEV sales data.
You may recall I included end-May YTD 2014 data in my review of Volvo's V60 diesel hybrid plug-in back in July. Those few months ago, overall car sales YTD continent-wide were up 6.9% to 5,431,921 with PHEVs totalling 12,899. By the end of August, by a slightly different measure, western Europe sales were up 5% year on year to 8,030,046 units. JATO's abacus, which counts in a few eastern Europe countries too, came up with 17,597 PHEV sales.
Back in July, I noted that Mitsubishi's Outlander PHEV, which substitutes a petrol engine for a turbodiesel but otherwise does much the same as the V60 - ie haul plenty of people and stuff, all the while offering four wheel drive either via the combustion motor driving the front wheels and supplemental electric motors front and rear (the V60 has just the one electric motor at the back) - had made just five sales by the end of May 2013, 8,239 by the end of 2013 and had shifted another 6,837 by the end of May 2014. This petrol-electric had come from nowhere to overall leader and, to the end of last August, thanks to launches in additional European markets including the UK, had seen its tally rise to 11,785, still far and away the segment leader.
Now up to 3,740 sales YTD August, second place is still held by the Volvo which shifted 8,066 units last year, less than 200 shy of the then-new Mitsubishi upstart. YTD May 2014: 2,835.
It's not hard to see why the Outlander tops the European PHEV pile and is also popular in many markets overseas. Mitsubishi has good form with attractive, versatile, well made and mechanically robust SUVs (Pajero/Shogun/Montero and the newer, smaller spin-offs) and has come up with some great powertrains as any fan of the several generations of sporty, rally-going Lancer sedans rolled out over the years will attest. The automaker produced its first battery electric a few years ago - the i-MiEV - and this latest, top-selling PHEV combines a lot of the brand's best known attributes to tick many potential buyer boxes.
In the V60 review I said the one to watch was BMW's i3 whose range extender version (REX) made 1,013 sales last year and had already reached 1,689 by the end of May 2014. YTD August, its sales have reached 2,860, pushing way past Toyota's ageing (and very short electric range) Prius PHEV which climbed from 587 sales YTD May to just 666 YTD August, just 11 units ahead of Porsche's Panamera. Two interesting newcomers in the YTD August group are the single Porsche Cayenne sold to date and its VW group sibling, the new Golf PHEV (219 so far) - another one to watch, I think.
Colleague Glenn Brooks has previously taken a close look at the Outlander when it was launched here in the UK so I decided to test one my usual way - throw it (whimpering) at The Family and see if it lived for me to tell the tale.
As I suspected, the Mitsubishi, like the i3 REX that followed it a few weeks later, proved almost perfect for the job of transporting assorted children and their non-driving mum all over town on errands that, round trip, rarely exceed two miles. As I noted in the REX review, such short runs are hell on combustion engines, the environment, fuel economy and, eventually, 12-volt primary batteries, but are just made for a BEV/PHEV kept fully charged via the (now slightly less UK government-) subsidised home charge outlet it would be very worthwhile having installed. In the first few days, I did 97% of the running on electric alone and that proportion was maintained for the full week of the test and about 100 miles, more than we would typically do in our own car in that time. I did not do the 40-mile round trip to the office that week ('official' EV range is 32.55 miles so that would have brought the EV percentage down a little) but, on a five-mile test scamper down the 60mph A-road that starts that journey, the Outlander still tried to run on 'lecky whenever it could, switching off the 'petrol engine assist' whenever possible.
The Outlander is more like the V60 than the i3 REX in that it will as much as it can on electricity while the battery is charged (the higher the speed, the more likely the petrol motor will pitch in) and then switch completely to the combustion engine to keep you going until you recharge. In the Volvo you have 45 litres (10 imperial gallons) of diesel in reserve and the Outlander, despite the large battery pack still finds room for 60-litres (13 gallons) of petrol so hundreds of miles of range are possible before electric and or petrol/diesel refuelling. The REX, in contrast, is designed to run solely on electric before the range extender generator kicks in and then you have just two gallons of range (60-70 miles, I'd risk) before you need to refuel. The occasional long trip wouldn't be unmanageable in the BMW, with a bit of planning and a beady eye on the navigator, but the Volvo and Mitsubishi would be way easier - you'd just keep on burning fossils till it's convenient to recharge.
Charging solely at home, I found the Outlander a little pernickety as you must get the plug-in process exactly right - it would not start charging if you held the release lever on the socket as you plugged it into the car - the charge flap is on the right rear flank. Once I did persuade it to charge, progress could be monitored either via the dash display (more info appeared if you unlocked the car) or, much easier, by a smartphone app - for both Android and iOS - that turns the car into a wifi router with a surprisingly wide range, to which you connect the phone. You can check charge state, set climate control on and off times to 'precondition' the cabin, and adjust various vehicle settings. A full charge took about six hours from a 17amp, 240V UK domestic socket but the car, unlike the i3 REX, comes standard set up for faster DC charging (extra cost on the BMW) and the test car Outlander came with the second cable needed for that.
I did have one or two issues with playing music from an Android phone via one of the several standard USB sockets but iOS phones worked fine and that is hardly a deal breaker. There would, though, be some haggling withe the dealer over a navigation map in a car delivered new last March in which a local petrol station, demolished some 13 years ago to make way for a housing estate, was still listed as a present-and-correct POI.
As a family car, the Outlander PHEV, especially in posher GX4h trim as offered here in the UK, went down a treat. Kids in back sit up high with a great view out, access for them and to install their child seats is generous and there's plenty of stowage for teddies, fruit shoots and all the other clobber with which they roll. All the other stuff is easily swallowed by a vast load area accessed by, in the test car's case, a power tailgate - and keyless entry/start is also always appreciated. The difference between GX3h and GX4h is primarily frilly bits, no less worth having if your wallet will stretch, such as sunroof (my kids love glass ceilings), the aforementioned power tailgate, headlamp wash, that remote control app compatibility, leather heated seats, power driver's seat adjust, radar cruise control, lane departure warning, rear camera and other safety doo-dads, navigation and higher-spec infotainment. All of which, if the GX3h is the budget limit, you could manage without.
Pricing ranges from GBP33,249 to GBP39,999 but almost all buyers will qualify for the government plug-in vehicle grant which shaves GBP5,000 off and makes the still well specified 'entry' GX3h competitive with the equivalent non-hybrid Outlander diesel and top-line non-hybrid petrol and diesel competitors from the likes of Nissan, Honda and Toyota. Business buyers of a PHEV here in the UK get other benefits such as low benefit-in-kind tax; private buyers at least get to share the exemption from the UK's annual road tax.
We noted a firm and slightly jiggly ride on the 18-inch alloys and I groused (as usual) about the lack of any size of spare wheel but the performance is great and I liked the steering wheel-mounted paddles that, instead of changing gear, adjust the degree of regenerative braking from mild to I-hope-that-car-behind-realises-we're-stopping. You can set it more easily to prevailing conditions (stronger in town, say) and drive more smoothly than in the i3, where you have to learn to delicately balance application of right foot on accelerator pedal (but maximum regen automatically lights the brake lamps).
Like most of the electrified vehicles I have tried in recent years the Outlander, Mitsubishi's first PHEV, is a superb first effort at contesting a new segment. It's no wonder it's selling like hot cakes and I would not hesitate to thrown one permanently at The Family. The number of times I was asked 'where's the blue car gone, dad?' after it departed suggests they'd be quite happy, too.
Data courtesy JATO Dynamics:
European PHEV Sales for August 2014 and August 2014 YtD
| Make | Model | Aug 2014 | Aug 2014 YTD |
| --- | --- | --- | --- |
| AUDI | A3 | 232 | 387 |
| BMW | I3 | 305 | 2,860 |
| BMW | I8 | 101 | 362 |
| CHEVROLET | VOLT | 7 | 49 |
| FISKER | KARMA | 2 | 25 |
| MCLAREN | P1 | - | 19 |
| MITSUBISHI | OUTLANDER | 1,229 | 11,785 |
| OPEL | AMPERA | 38 | 257 |
| PORSCHE | CAYENNE | - | 1 |
| PORSCHE | PANAMERA | 59 | 655 |
| TOYOTA | PRIUS | 52 | 666 |
| VAUXHALL | AMPERA | 29 | 309 |
| VOLKSWAGEN | GOLF | 75 | 219 |
| VOLKSWAGEN | XL1 | - | 3 |
| VOLVO | V60 | 262 | 3,748 |
Country
Austria
Belgium
Croatia
Czech Republic
Denmark
Finland
France
Germany
Greece
Hungary
Ireland
Italy
Netherlands
Norway
Poland
Portugal
Romania
Slovakia
Slovenia
Spain
Sweden
Switzerland
United Kingdom
Most popular news
---
Most popular insights
---
Oops! This article is copy protected.
Why can't I copy the text on this page?
The ability to copy articles is specially reserved for people who are part of a group membership.
How do I become a group member?
To find out how you and your team can copy and share articles and save money as part of a group membership call Shivani Hayer on
+44 (0)1527 573 732 or complete this form..