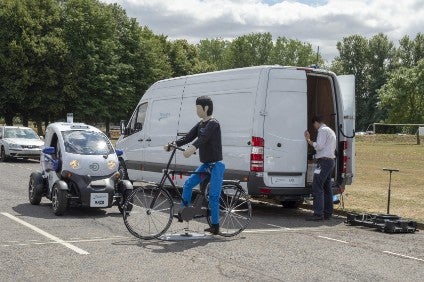 Millbrook, the one-time GM-owned Vauxhall Proving Ground in Bedfordshire, said it was expanding its Advanced Driver Assistance Systems (ADAS) test facilities.
"Customers, from automotive OEMs and tier one suppliers to developers of connected and autonomous vehicle (CAV) technologies are working tirelessly to develop their active safety capabilities and require more test support across all stages of their R&D process," Millbrook said.
It claims to have the "best facilities for testing these cutting-edge technologies in the UK". As well as modifications to existing road and test track infrastructure, it is making a "significant investment" in high-precision instrumentation and soft targets that allow contact without damage. It has recently been running a number of demonstrations.
Facilities allow a wide range of controlled and semi-controlled driving scenarios to be set up on private roads and test tracks to test systems including autonomous emergency braking, adaptive cruise control, autonomous parking and lane support, and those found in CAVs. The scenarios cover both prescribed tests, such as those found within EuroNCAP protocols, and customer-specific requirements. Much testing is carried out to customer-specified procedures for benchmarking and internal sign-off purposes.
The test, development, and certification activities carried out at make use of a wide range of high accuracy instrumentation and soft targets. This allows tests to be conducted with a high level of repeatability and gives each customer the ability to take vehicle or software capability to limits in a safe and secure environment. A high-definition, 1mm surface accuracy digital road model provides customers with a virtual environment for faster development.
Darren Williams, chief engineer – vehicle, said "We are experiencing a period in which the motor industry is working towards greater change than at any point in the previous 100 years. Whether it is alternative powertrains or active safety systems and driverless vehicles, the technologies being developed today are changing the face of our relationships with transport. Millbrook is proud to be at the forefront of the testing and development work taking place in the UK to enable these technologies."
Millbrook also claims to have the best data acquisition systems for ADAS testing requirements. The data allows for all signals to be recorded and time aligned on a single data file so no time-consuming post test data alignment is required. It is possible to record inertial and navigational parameters with 1cm positional accuracy. Distances between test vehicle and target, time to collision, lateral and angular offset errors, and data from any other sensors can all be displayed live.