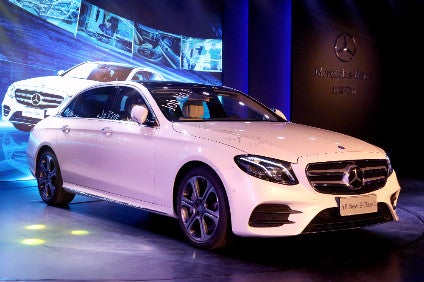 Beijing Benz Automotive (BBAC) has started production of the special long-wheelbase version of the redesigned Mercedes E-Class designed for China.
The joint venture plant builds the E on the same flex line as the C-Class. Its predecessor has been made at BBAC since 2010.
"Sustainable growth in the world's largest car market calls for products 'Made in China, for China'. The new [LWB] E-Class is the third generation to be produced by BBAC. It is precisely tailored to Chinese customers and was to a major extent developed in China," said Daimler's China chief Hubertus Troska.
The Sino-German cooperation – which can trace its origins back to a 1980s JV to make Jeeps – celebrated its 10th anniversary as a Mercedes plant in 2015. Earlier this week, the partners said they'd spend RMB4bn (EUR500m) on further expansion of the BBAC engine plant in Beijing.
BBAC built around 250,000 vehicles last year. It also produces the GLA and GLC.
Daimler's "competence centre for luxury-class cars" in Sindelfingen, Germany collaborates closely with the Beijing factory and initial phase E-Class L production is being assisted by staff from Sindelfingen. Numerous equipment variants plus safety and assistance system options result in every vehicle produced being unique. Engines for the new E-Class are also made at BBAC.
Peter Schabert, president and CEO of BBAC, said: "With the production of front- and rear-wheel-drive vehicles as well as engines, our team in Beijing shows its vast know-how while demonstrating its flexibility. In terms of surface area, BBAC is already the largest Mercedes-Benz car plant in the world and we are ideally placed for further growth."
The long-wheelbase E-Class for China is 140mm longer in wheelbase (3,079mm) and overall length (5,063mm) and rear compartment has an extra 134mm of legroom. The sedan is frequently used in China as a chauffeur-driven vehicle as customers value the longer footwell. Increased rear legroom also facilitates passenger entry and exit.
In recent years, an average of one customer in three opting in China for an E-Class L was a conquest buyer trading in another brand.
The redesigned model goes on sale next autumn.