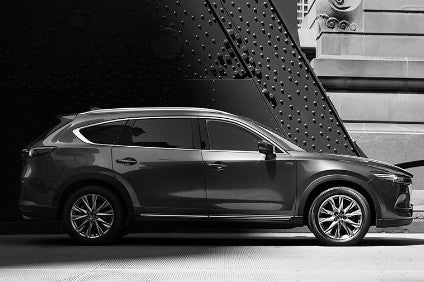 Beginning the now-traditional drip-feed of details and images ahead of, finally, actual product launch, Mazda has released an image of its upcoming CX-8 crossover SUV.
This is its first new-generation model for sale in Japan to feature three rows of seating and is scheduled on sale before the end of this year.
The automaker said the CX-8 would be the brand's flagship.
"It's a new kind of crossover SUV for people who both appreciate quality and need to seat more than five," Mazda said in a statement.
"It has the looks, performance and high-end feel customers expect yet even adults can sit comfortably in the third row. Designers worked to add a new dimension of maturity to the KODO-Soul of Motion design theme, aiming for an enduring edgy look that will continue to excite customers for many years to come.
"As the flagship SUV in the Japanese market, the focus was on creating a look of class and quality, and every interior part was chosen in careful consideration of colour and material.
The model is 4,900mm long, 1,840mm wide and 1,730mm high on a 2,930mm wheelbase.
Powerplant is a Skyavtiv-D 2.2-litre "new-generation clean" diesel engine with Skyactiv-Drive six-speed automatic transmission and seating for six will also be offered.
According to just-auto's Product Lifecycle Database (PLDB), the CX-8 is an additional SUV for the Mazda range. In Japan and other relevant markets, it is also the effective replacement for a large minivan, the MPV/Mazda8. The CX-8 is sized to compete with the Toyota Kluger/Highlander, Ford Edge, Honda Pilot and others in the segment.
Mazda does not sell the (primariliy US market) CX-9 in Japan.