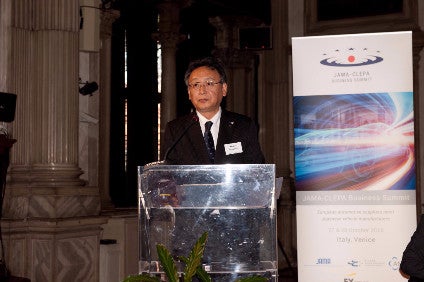 Mazda says it expects new suppliers to be proactive in sourcing structures and materials to drive down costs as it looks to localisation to drive more efficiency, with Europe playing a key role.
Overseas production by Japanese automakers has now reached 18m, a huge spike from 10m units in 2005 and combined with domestically-made vehicles, total manufacture has increased by around 30% to reach 27m.
The Japan Automobile Manufacturers Association (JAMA), which celebrates its 50th anniversary next year, noted the "core" of its country's automotive production had now moved abroad, while Japanese purchases of EU-made parts was nearly EUR15bn (US$16.2bn) in 2015.
"We treat all suppliers equally, regardless of nationality, however, [they] must understand a prerequisite is safety, environmental friendliness and compliance," said Mazda global purchasing executive officer, Kazuhisa Fujikawa at the recent JAMA-CLEPA Business Summit in Venice.
"We look at economic conditions, regulatory frameworks, market trends and customer needs. At the planning stage, suppliers are expected to make proposals which will improve competitiveness of vehicles. We welcome proposals that use new structures and materials to reduce costs and help to increase local content by linking our international production sites with the suppliers' production network.
"We want you [suppliers] to show us the results of unique technology development – we are looking for new technologies which will improve performance. We also welcome proposals that take advantage of location. We expect suppliers [to make] proactive efforts to reduce costs – to use their own expertise to try to achieve target costs that have been set."
The Mazda global purchasing executive officer added suppliers should tailor their "detailed plans" to fit with the automaker's vehicle development and "dates and deadlines" were expected to be rigorously observed.
After drawings are issued, Mazda meets its new suppliers to draw up a schedule for dies and jigs, while prototypes are evaluated and improvements made.
"Our expectations of suppliers in the production preparation stage consist of timely response to challenges and efforts to restrain costs increasing as a result of those challenges," added Fujikawa. "We want [suppliers] to innovate in the design of dies and jigs.
"Once production preparation finishes there is a process audit – in some cases we may perform the audit – it is at this stage we identify points for improvement – mass production begins. Even in the mass production stage, [suppliers] will be expected to make on-going efforts to ensure quality systems and reduce costs.
"Once business begins [suppliers] will be expected to faithfully meet deadlines, including delivery of spare parts. There will be times when we need to ask for sharp, sudden changes – suppliers are expected to respond in a timely manner. Should there be a disaster we expect information to be shared and the impact on inventories – we also expect [suppliers] to recover as quickly as possible."
The Mazda global purchasing officer noted the whole supplier process took around 14 months.
Data from just-auto's QUBE service notes Mazda's approches to multiple competitors, including Suzuki and Nissan in Japan, has significantly lowered R&D and manufacturing costs, as have the decisions to invest in new production plants in Mexico and Russia in partnership with other firms.