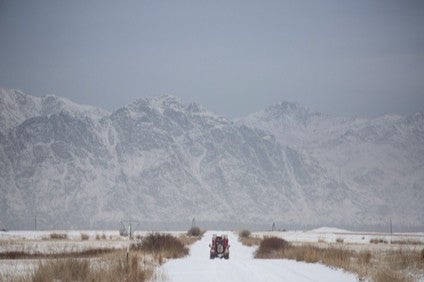 Magna Automotive Rus says the recent global recession had seen the weakest manufacturers disappear from the market, with the Canadian giant component producer reorganising its supplier structure to cope with the new market conditions.
Russia has arguably had not just the recession whose origins were triggered by the 2008 banking crisis and which endured for several years afterwards, but a secondary downturn engendered by the international community's opprobrium towards it following Moscow's annexation of Crimea and supposed involvement in Eastern Ukraine.
The corresponding supplementary pressures on the economy saw big ticket purchases such as cars particularly hard hit as a combination of high interest rates, a falling ruble and lower oil prices, deterred customers from dealer showrooms, despite a package of financial inducements from Russian authorities.
"We survived through a major crisis a couple of years ago [and] after we lived through this crisis, we set up a new category of supplier," said Magna Automotive Rus purchasing director, Anna Tatarenko at the recent Russian Automotive Forum organised by Adam Smith Conferences in Moscow.
"We risk management-assessed three major categories: we split our suppliers into…foreign companies, Russian suppliers focused on automotive suppliers and local suppliers who do not specialise in automotive.
"After the crisis the weakest links of the chain disappeared, they did not survive. This was a kind of lesson learned for us when we added a lot of aggressive, ambitious suppliers not in the automotive industry. The most painful lessons were dealing with local suppliers – really these problems were highlighted long ago but they evolved through time.
"[The] Automotive industry is high-tech [and it] has technologies which become obsolete very fast. Local suppliers with no experience with the automotive industry have big problems in accessing high-tech. Our climate is quite specific – another problem is no state-of-the-art technology."
Magna currently has two plants in Russia, with the Kaluga site handling exteriors and the Nizhny Novgorod factory, where the supplier is headquartered, responsible for both interior and exterior work. The manufacturer restricts its suppliers to areas close to either its clients or to itself.
Issues facing Magna Rus include a shortage of highly-skilled staff, meaning personnel have to be drafted in from elsewhere, while the purchasing director also referred to: "Another problem which could be traced back to to Soviet times, is mindset."
However, where Magna succeeds locally is in the fields of plastics and granulates suppliers. "Plastics suppliers are numerous, their quality is very high," said Tatarenko, adding: "At the moment we have six localised manufacturers of granulates; a couple of years ago we only had two [while] lacquer, varnish and paint, there are three of them [in Russia].
"We do have [however] very weak chrome technology – unfortunately we have to import it from Europe and some other countries. Three European suppliers have asked us to create a joint venture on a chroming line or just consulting services, but when they assessed the volume they lost interest. If volume goes up, the companies will come back.
"We have one product purchasing department in Nizhny Novgorod. In order to get better proposals from suppliers, we bring together the demand from two plants to get better proposals. We constantly look for new suppliers – this is non-stop – we have a specific division which does that."
The purchasing director also noted Magna required its suppliers to be "financially stable and efficient," although this is sometimes not the case in Russia.
"We have to protect ourselves on the one hand, but we also need new suppliers on the other," added Tatarenko.