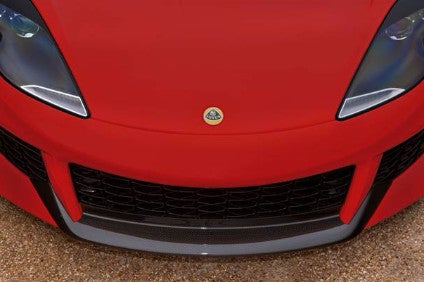 Various lightweighting measures have enabled Lotus to shave 42kg off the weight of its Evora 400 model, the automaker said. New options include a 'carbon pack', lithium ion battery and titanium sports exhaust.
"Lotus still remains true to the ethos of the company's founder Colin Chapman, and his approach to weight-optimised design and construction," the automaker said in a statement.
CEO Jean-Marc Gales said: "The Evora 400 is already the lightest car in its segment, with supercar performance, benchmark handling and the purity of the driving experience expected of a Lotus. We are now giving customers an opportunity to drive an even lighter and more responsive car."
Available in all markets, the new carbon pack uses a number of components already fitted to the ultra-lightweight Evora Sport 410 as standard. The option includes a front splitter section, roof panel, rear wing centre, rear diffuser finisher, front access panel and wing mirror caps.
The hand-made parts cut mass by 5kg (11lb) while providing a contrasting carbon finish. A lightweight titanium sports exhaust and lithium-ion battery also now can be specified which each save a further 10kg (22lb).
A cup holder and oddment tray, previously standard in US and Canada specification vehicles is now an option in EU and Asian markets. It weighs only 120g (4oz).
The new lightweight options expand on previously standard lightweighting measures for the Evora 400 including air conditioning delete and 2+0 seating. The combined lightweight options provide a total saving of 42kg (93lb) over the model's previous weight of 1,395kg (3,075lb)* to 1,353kg (2,983lb).
The carbon pack costs GBP6,500, (EUR9,000 in Germany and US$10,000 in the US), the titanium sports exhaust is GBP5,500 (EUR7,000; $8,000) and the lithium-ion battery GBP1,350 (EUR1,890; $1,690 (USD). Air conditioning delete and 2+0 seating is a no-cost option.