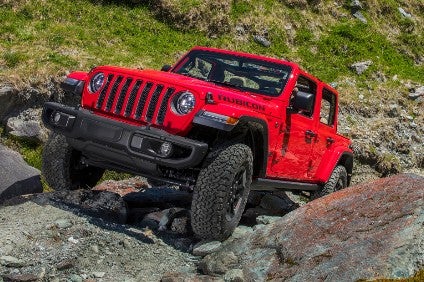 After a surprisingly strong June, July's US light vehicle sales results were more in line with 2018 projections.
With one less selling day and, more importantly, one less selling weekend, July deliveries were off 3.7% with volume down by nearly 52,000 units.
July's seasonally adjusted annualised rate (SAAR) was 16.77m, down very slightly from 16.78m in July 2017.
Eleven of the 16 automakers that regularly report monthly sales were in the red and estimates showed GM with a deficit as well.
It's certainly coincidental but FCA US marked the untimely passing of Sergio Marchionne with a solid gain in deliveries. The growth was almost entirely due to another surge in sales of Jeep, the brand in which Marchionne placed so much faith. This renaissance in Jeep sales is much like the brand's growth in the EU where it led all others in the percentage of growth in June registrations. The other FCA brands posting gains were RAM and Alfa Romeo, the other two legs upon which Marchionne's growth strategy depended.
While Jeep held the crown as the bestselling utility brand, it was a real photo finish in the race as Toyota, which took the top spot last year, came within 426 sales of matching the leader last month.
SUVs were one of Ford's weak spots, joining with cars and the Lincoln brand to leave the blue oval in the red.
Speaking of Ford and cars, it will be interesting to see if the rumours are true about Dearborn creating a pickup based on the Focus platform. While the midsize Honda Ridgeline has had moderate success, small, unibody pickups didn't play so well back in the 1980s when we had trucklets such as the Volkswagen Rabbit pickup which was built for a few years in VW's first US plant in Westmoreland County, Pennsylvania. There were a few similar vehicles, like the Subaru Brat and Ram 50 but they couldn't keep up with American expectations of hauling capacity.
The major Japanese players all missed their marks in July with Nissan delivering the worst performance. Subaru delivered another monthly record and Mitsubishi is still reaping the benefits of its Outlander, delivering a 24% improvement.
Lexus was the top-selling premium marque in July, finishing thousands of deliveries ahead of runner-up BMW. Mercedes-Benz took the largest dive of any major automaker, plunging 22.7% as sales of both cars and utilities slumped. An uptick in commercial van deliveries trimmed a bit off the loss and company officials blamed a mainframe system failure and short supplies during the model changeover.
One significant change in the market is incentives. In July, there was a nearly 50% reduction in the popular 0% financing offers. With US interest rates at a nine-year high, subvented loans are becoming too pricey. According to Edmunds.com, the average interest rate on a new vehicle loan was nearly a whole percentage point higher that it was a year ago. This means higher payments and larger down payments.
Since the small increases in employee wages have been fairly well wiped out by increases in the cost of petrol, which is up 23.7% compared to July 2017, groceries and other things, the capacity of the average American consumer to swing a higher payment is somewhat limited.
As of yet, Americans don't seem to be inclined to give up their SUVs for more economical cars so when the forecast is still for contraction in the market, the profit picture remains fairly good. It also looks like there might be some progress on the tariff front and that can only be good news for automakers.
* indicates a sales record.
Note: Monthly sales figures for General Motors are estimates.
**Volkswagen Group figures include Audi, Bentley, Porsche and Volkswagen brands
Other includes estimated sales for Aston-Martin, Ferrari, Lamborghini, Lotus, McLaren, Rolls-Royce and Tesla