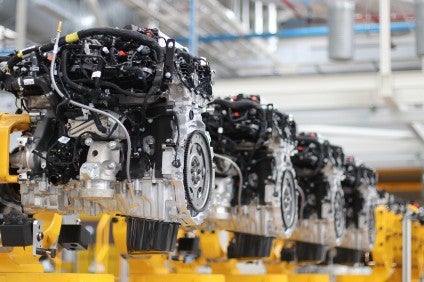 Jaguar Land Rover has now produced over 1.5m Ingenium engines as the UK based automaker celebrated its Wolverhampton Engine Manufacturing Centre (EMC) adding an additional MHEV diesel powertrain to the line.
EMC produces a wide variety of the ultra-efficient Ingenium powertrains with three, four and six cylinders, petrol and diesel plus MHEV and PHEV variants for the Tata Motors-owned automaker's Jaguar, Land Rover and Range Rover models.
Developed and manufactured in house in the UK, the all-aluminium Ingenium engines are modular, flexible and scalable, with common core technology.
JLR this week announced a new six cylinder, inline (I6) diesel version, with enhanced performance, smoothness and efficiency, for the updated Range Rover and Range Rover Sport. The powertrain also has 48V mild hybrid technology.
The Engine Manufacturing Centre also houses the assembly of electric drive units (EDUs).
The Wolverhampton site is complemented by a growing JLR electrification 'ecosystem' in the West Midlands, with the Battery Assembly Centre at nearby Hams Hall (a former power station site also home to a BMW engine plant) assembling PHEV and BEV batteries – JLR now offers a wide line of MHEV, PHEV and BEV models.
Ken Close, Jaguar Land Rover Powertrain Operations launch director, said: "We are experiencing unprecedented demand for cleaner running vehicles, so it's more important than ever to deliver clean and efficient engines without compromising on the performance or all terrain capabilities our customers have come to expect."
The Engine Manufacturing Centre supplies engines to JLR global vehicle operations with most used by UK factories including Solihull, which makes most of the Land and Range Rover model lines.
The latest I6 diesel shares manufacturing facilities with the I6 petrol engine launched last year.
These include machining of the key architecture, cylinder head, cylinder block and crankshaft, as well as the assembly and testing.