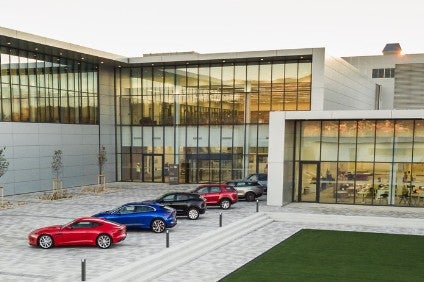 Jaguar Land Rover has formally started its EUR1.4bn (US$1.6bn) manufacturing facility in Nitra, Slovakia, the first time a UK automotive company has opened a factory in the Central European country.
The investment in Nitra marks a further step in the company's global expansion strategy following the opening of its Chinese joint venture in 2014 and Brazilian plant in 2016, supported by contract manufacturing in India from 2011 and Austria from 2017.
"Global businesses require global operational footprints," said JLR CEO, Ralf Speth. "While Jaguar Land Rover's heart and soul remain firmly anchored in the UK, expanding internationally only enriches and strengthens our UK business.
"Today's opening of our next generation manufacturing plant in Nitra, Slovakia represents the start of a new era in manufacturing for Jaguar Land Rover. It is the latest milestone in our long-term globalisation programme and the culmination of four years planning.
"As with our existing manufacturing facilities located in the UK, China, Brazil, India and Austria, this plant in Slovakia will complement and support our corporate, R&D and engineering functions headquartered in the UK."
JLR currently employs around 1,500 people in Nitra, of which 98% are Slovak nationals and 30% women. It will launch its second phase of local recruitment in November looking for an additional 850 people.
All manufacturing employees have taken part in a bespoke 12-week training programme in the company's first overseas Training Academy, representing an investment of EUR7.5m.
The new 300,000m² facility has an annual capacity of 150,000 vehicles a year, with the first Land Rover Discovery coming off the production line in September.
The plant is the first in Europe to use Kuka's Pulse carrier system which the automaker maintains is 30% faster transfer times than conventional conveyance systems. It will also feature an automated paint shop process.
The factory has been designed to enable connected manufacturing technologies, such as shop floor visualisation by using real time data to solve issues which will support improved process efficiency, delivery and quality.
Slovakia has an established premium automotive sector [building top Audi, Bentley and VW models – ed], which represents 44% of the country's overall industry. With a network of suppliers in close proximity, JLR has sourced and localised a number of components, such as seats and wheels, to support production of the Land Rover Discovery in Nitra delivering several thousand additional jobs in the automotive supply chain in Slovakia.
In the community:
In the last six months, JLR has delivered almost 500 volunteering hours to projects in Nitra and surrounding communities; launched its first employee grant programme supporting 12 local projects and most recently has opened a new endowment fund, in conjunction with the Pontis Foundation, to support local projects in the future.
During the course of the last three years, the manufacturer has delivered new education programmes to inspire the next generation of automotive engineers in Slovakia.
In November, the Land Rover 4×4 in Schools competition will be held in Slovakia for the third year. 10 schools from Slovakia will take part in this year's competition to design and build a remote control four wheel drive vehicle capable of tackling tough off-road test tracks. In addition, Jaguar's Primary School Challenge will be held in Slovakia for the first time this year.