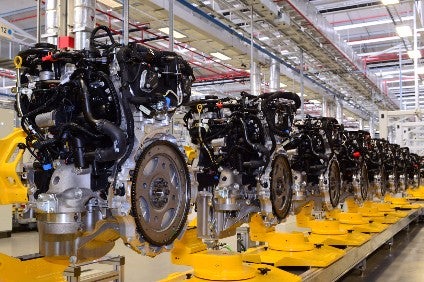 Tata Motors' Jaguar Land Rover engine factory has produced its first Ingenium petrol motor which will make its debut in vehicles later in the summer.
The first petrol engines mark the completion of the first phase of the Engine Manufacturing Centre (EMC) – a fully flexible manufacturing plant that now serves the automaker's three UK vehicle assembly plants plus overseas KD assembly operations.
Production of the two litre, four cylinder petrol engine supplements two litre 150PS, 163PS and 240PS I4 diesels.
JLR said earlier EMC would manufacture the high-performance two litre 300PS Ingenium petrol unit – the most powerful four-cylinder engine it has ever produced – for the 2018 Jaguar F-Type.
Trevor Leeks, operations director, EMC, said: "The start of petrol production marks an important milestone for the plant, as we move to providing a suite of ultra-low emission, high-performance petrol and diesel engines to power the full Jaguar and Land Rover vehicle line-up now and in the future.
"Importantly, it also showcases the incredible impact JLR has had on the local economy with the creation of the 1,400 skilled jobs promised when we opened the plant in 2013. In fact, we will be welcoming our 1,400th employee at the end of this month."
Of the 1,400 people recruited at the Wolverhampton plant, more than 80% live within 10 miles. More than 125,000 hours of training has been undertaken to create a world-class workforce, which includes a former bus driver, a nurse, a beauty therapist and a locksmith.
The EMC has also welcomed more than 50 apprentices and graduates, all on a bespoke powertrain development programme designed to support the design, engineering and production of the advanced engine range.