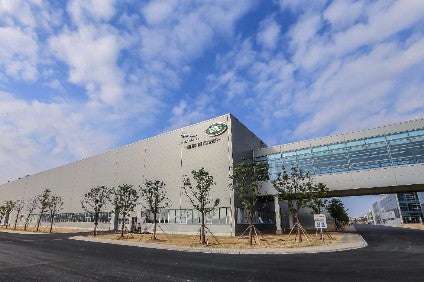 Having announced more details of the upcoming E-Pace compact SUV, and that it will be assembled for most markets under contract by Magna Steyr, Jaguar said the car would will also be manufactured at the Chery Jaguar Land Rover plant in Changshu "exclusively for Chinese customers" with sales starting in China in 2018.
Changshu is also home to a plant making Jaguar partner Chery's Qoros brand while supplier Adient plans a new seating mechanisms factory there. Mahle (whose Slovakia-made parts we spotted on an E-Pace at last week's reveal in London), has just opened a compressor plant in the city.
The Chery-JLR factory, opened in 2014 initially to assemble the Range Rover Evoque, now also makes the Discovery Sport and Jaguar models including the long wheelbase XFL saloon developed especially for, and made only in China. Initial capacity was 130,000 units a year but expansion plans have been reported and the plant is now responsible for making about half the vehicles JLR sells in China.
When announcing the latest product allocation for the Chinese plant, JLR stressed its ongoing commitment to its UK home base.
"The UK is the heart and soul of our manufacturing, design and engineering capabilities. However, with our UK facilities operating close to capacity, our contract manufacturing partnership with Magna Steyr and our joint venture in China provide additional volume, agility and flexibility to deliver the new Jaguar E-Pace alongside our other exciting vehicle launches this year," said manufacturing chief Wolfgang Stadler.
Over the past five years, JLR added, it had added over 22,000 jobs, taking its workforce to more than 42,000. It has spent around GBP12bn on both new products – such as the smash hit F-Pace SUV – and capital expenditure.
It has also doubled its investment in its engine plant in the UK to almost GBP1bn, claiming it was the "largest injection into a new British manufacturing plant in decades" creating several hundred new jobs.
It also plans to expand its advanced engineering and design centre in Coventry and to invest in the National Automotive Innovation Centre at the University of Warwick.
"With plans already in place to take Jaguar Land Rover's three vehicle manufacturing plants in the UK close to their operating capacity, the creation of overseas manufacturing facilities delivers additional volumes needed to support the company's future strategy. It allows [us] to offer [our] customers even more exciting new vehicles, to protect against currency fluctuations and to build a globally competitive business," the automaker said.
JLR also assembles vehicles from KD kits at parent company Tata Motors' plant in Pune, India and at a plant in Brazil. Both countries impose significant import duty on fully imported vehicles and local production is essential to achieve volume. The automaker is also planning a new manufacturing plant in Slovakia.