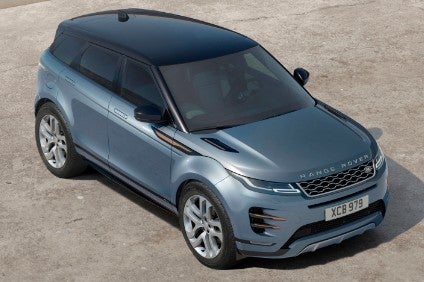 Will the redesigned Range Rover Evoque sell like hot cakes as its Land Rover Freelander replacement did initially, back in 2011? Bang on time, at the end of a 'traditional' European automaker's eight year model life cycle, Jaguar Land Rover has introduced a fully redesigned Evoque that, at first glance, looks very much like the original, so we shall see.
JLR said it had built 772,090 units of the first generation (at the former Ford plant in Halewood, near Liverpool, which also does the Discovery Sport) and a fifth of those were sold in the UK alone. Evoque was the Tata Motors -owned automaker's second best seller in 2017, after the related, seven-seat Discovery Sport, with global sales of over 100,000.
Rawdon Glover, managing director, Jaguar Land Rover UK said: "The Evoque has been a phenomenal UK success over the past seven years. It's proven very popular with customers from a broad range of segments with more than 60% of them being new to the Land Rover marque. With a fifth of global retails being in the UK, I am extremely confident this will be a great second album taking Evoque to a new level of refinement, luxury and sustainability while preserving all the charm of the first model which defined the compact SUV market back in 2011."
Order books opened yesterday for first deliveries in early 2019 and new enticements include a much wider range of engines including, eventually, the automaker's first I3, a 48V mild hybrid and a 300-volt plug-in hybrid PHEV. The resulting, much-lowered CO2 emissions will be essential if JLR is to avoid heavy EU fines for model range-wide average emissions soon to come into effect.
When all variants are in production, the revamped Evoque will offer in-house-made new three- and the now-familiar four-cylinder Ingenium petrol and diesel engines now used pretty much across the full Jaguar, Land and Range Rover model lines as JLR weans itself off bought-in, shared engines specified during its Ford and BMW-owned days. The new I3 will makes its debut with the equally new PHEV drivetrain.
To order, if not standard, the new model, like its predecessor, can be had dripping with tech: Apple CarPlay, 4G Wi-Fi hotspot and InControl Remote are available plus a new, claimed world first – ground view technology making the bonnet invisible, while a high-definition video screen can replace the rear view mirror in a manner already seen in some US Cadillacs. Smart Settings uses artificial intelligence algorithms to learn driver preferences and ready the cabin for a specific driver's trip.
Prices start at GBP31,600 in the UK.
Restyle and new materials
The new Evoque retains the distinctive coupe-like silhouette with high waist, now a Range Rover SUV family identifier. There are new 21-inch wheels, slim matrix LED headlamps and Velar-style flush door handles.
'Technical' textiles that use recycled plastics are offered as premium alternatives to leather, such as a Kvadrat wool blend and Miko Dinamica suede cloth, as well as Eucalyptus and Ultrafabrics options. The twin touchscreen Touch Pro Duo system is also borrowed from big brother Velar but with new, faster software, 16-way seat controls and cabin air ionisation.
The model remains on Land Rover's new mixed-material Premium Transverse Architecture but has more interior space. A longer wheelbase yields 20mm extra rear kneeroom and an increase in small item stowage – the larger glove box and centre cubby can now fit tablets, handbags and bottles. The luggage space is 10% larger (591 litres) and JLR claims a folded pram or golf club set will fit, with space increasing to 1,383 litres when the 40:20:40 second-row seats are folded.
Hybrid powertrains
The new architecture was developed for electrification so a 48-volt mild-hybrid is available from launch with the plug-in coming in about a year. The mild hybrid powertrain is a first for Land Rover and works by harvesting energy normally lost during deceleration thanks to the engine-mounted belt-integrated starter generator, storing it in the under-floor battery. At speeds below 11mph (17km/h), the engine will shut off while the driver applies the brakes. When pulling away, the stored energy is redeployed to assist the engine under acceleration and reduce fuel consumption.
Available across the range (when specified with automatic gearbox) of four-cylinder Ingenium petrol and diesel engines, the mild hybrid delivers CO2 emissions from 149g/km and fuel economy from 50.4mpg (based on the new NEDC Equivalent WLTP test procedure). With the 150PS diesel engine with front wheel drive, emissions are 143g/km. The PHEV system will be combined with a new three-cylinder petrol Ingenium engine – coincidentally a future hybrid/PHEV version of the rival XC40 is expected also to be based on Volvo's new, 1.5-litre petrol I3. If JLR simply 'chops a cylinder off' the I4 Ingenium to create the I3, it, too, will be a 1.5.
New Evoque driveline options includes aforementioned 2WD, all-wheel drive, plus a second-generation active driveline with driveline disconnect to enhance efficiency plus adaptive dynamics to balance comfort and agility. Terrain Response 2 – from the full-size Range Rover – automatically detects the surface being driven on a adjusts the set-up accordingly, while Evoque can now wade through water up to 600mm (previously 500mm).
New tech
The segment-first ClearSight rear-view mirror transforms into an HD video screen. If rear visibility is compromised by passengers or bulky items, a switch under the mirror engages a camera feed from the top of the car to display the view behind. The screen is said to provide a wider (50-degree) field of vision and superior visibility in low light.
The claimed world first ground view technology effectively makes the bonnet (hood) invisible by projecting camera imagery onto the upper touchscreen to show the driver a 180-degree view under the front of the vehicle. This, JLR said, is useful for negotiating difficult parking spaces, navigating high city centre kerbs or tackling rough terrain and is the production version of the 'transparent bonnet' previewed back in 2014.
JLR product engineering chief Nick Rogers said: "The architecture is all-new to accommodate both plug-in and mild hybrid systems, with only the door hinges remaining unchanged on the body. The chassis has been significantly reworked to make the most of the stiffer body, ensuring the characteristic ride comfort and refinement of a Range Rover.
"Evoque is now smarter than ever. The software that sits behind the infotainment system has been refined to provide a more intuitive customer experience. On top of that we've added Apple CarPlay and Android Auto for seamless smartphone integration."
JLR said Evoque is the first Land Rover with smart settings, which uses artificial intelligence algorithms to learn the driver's preference and acts as an 'onboard butler'. In addition to seat position, music and climate settings, this can also control steering column setting preferences.