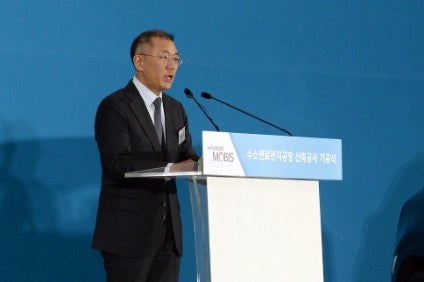 Hyundai Motor is planning to start pilot operation of robo cabs in South Korea in 2021, according to a report in the Korea Herald.
The car giant is currently in what many view as a modernisation phase and looking to restructure ahead of the big mobility challenges ahead. The newspaper said the firm's Executive Vice Chairman Chung Eui-sun said he would seek partnership with global leading companies to develop eco-friendly robo taxis that were both "safe and innovative."
The report added that Hyundai will deploy its fuel cell electric vehicle Nexo and compact SUV Kona electric for a driverless taxi service in Sejong, a city 120 kilometers south of Seoul that is home to major government offices.
Hyundai has reportedly been working with US start-up Aurora which develops sensors and software for autonomous vehicles. The two plan to commercialize a level-four self-driving system by 2021, according to the Herald.
The report also said that Hyundai Motor will established an "exclusive mobility service business model" and seek new business opportunities globally by combining its manufacturing capability and service-oriented businesses.