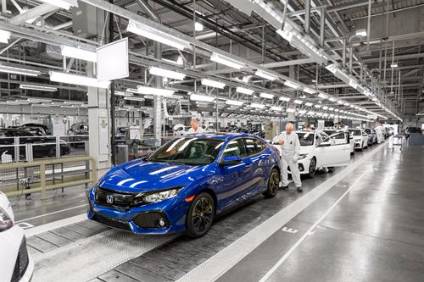 Honda in the UK is planning to further expand the export business of its UK manufacturing plant at Swindon (HUM – Honda UK Manufacturing).
The plant makes the Honda Civic hatchback and ships the model to global markets. Outside of Europe, exports are mainly destined for North America. This year, some 50% of the plant's production is headed for markets outside of Europe.
Speaking at the SMMT's International Summit in London, Ian Howells (Senior Vice President, Honda Motor Europe) said that Honda is 'fully committed to our UK operations' and is further expanding exports.
From the summer of this year, Honda will expand its export business further with shipments to Japan added.
"From the summer of 2017, HUM will expand its business to produce and export both the Civic hatchback and also the performance Civic Type R to Japan," Howells said. "This is a very exciting development for HUM and highlights the opportunities that globalisation and interconnectiveness can provide to the UK's automotive manufacturing sector."
However, he also warned that a business environment that supports and encourages free and frictionless trade is necessary to enable companies like Honda to seize opportunities, 'particularly in the light of the UK's departure from the EU'.
"To us, free and frictionless trade implies the elimination of tariff and non-tariff barriers, for the smooth flow of goods along supply chains and simple, painless customs arrangements," he said. "All of which the European Union's customs union currently provides."
Honda's UK manufacturing plant at Swindon – the sole global source for the new 5-door Civic – is aiming for production of 165,000 units in 2017, some 18% ahead of last year.