Honda Motor witnessed an 80% jump in influencer conversations on Twitter during June-November 2020 over the previous six months, according to GlobalData, a leading data and analytics company.
Smitarani Tripathy, Influencer Analyst at GlobalData, said: "In October, a dramatic conversation spike among influencers around Honda Motor was noticed when the company announced to exit the Formula One World Championship at the end of the 2021 season. The move forms part of the company's aim to reach its carbon neutral goal by 2050 with focus on developing technologies for fuel cell vehicles and electric vehicles.
"Another major spike for Honda was noticed in June, when the company's internal server was hit by cyberattack, which brought production, sales and development across its global plants to halt."
General Motors also emerged as the most mentioned automotive company among influencer discussions on Twitter compared to its peers Ford Motor Company (Ford Motor) and Honda Motor during the period.
An analysis of GlobalData's influencer platforms revealed that, in terms of percentage growth during June-November 2020 over the previous six months, GM recorded 50% growth in influencer conversations while Ford saw 40% growth.
A major spike of discussions around GM on the influencer platform was noticed in September, when the company agreed to acquire 11% ownership stake in electric vehicle start-up Nikola Corporation (Nikola) and build Nikola's Badger hydrogen fuel cell and electric pickup truck (subsequently nixed).
Another spike was seen in October, when GM announced to invest US$2bn in its Tennessee plant for electric vehicle production.
GlobalData's analysis also noted a sharp rise in influencer conversations around Ford Motor in October, led by the company's E-Transit planned to be launched in November 2020 as part of the company's push for electrification.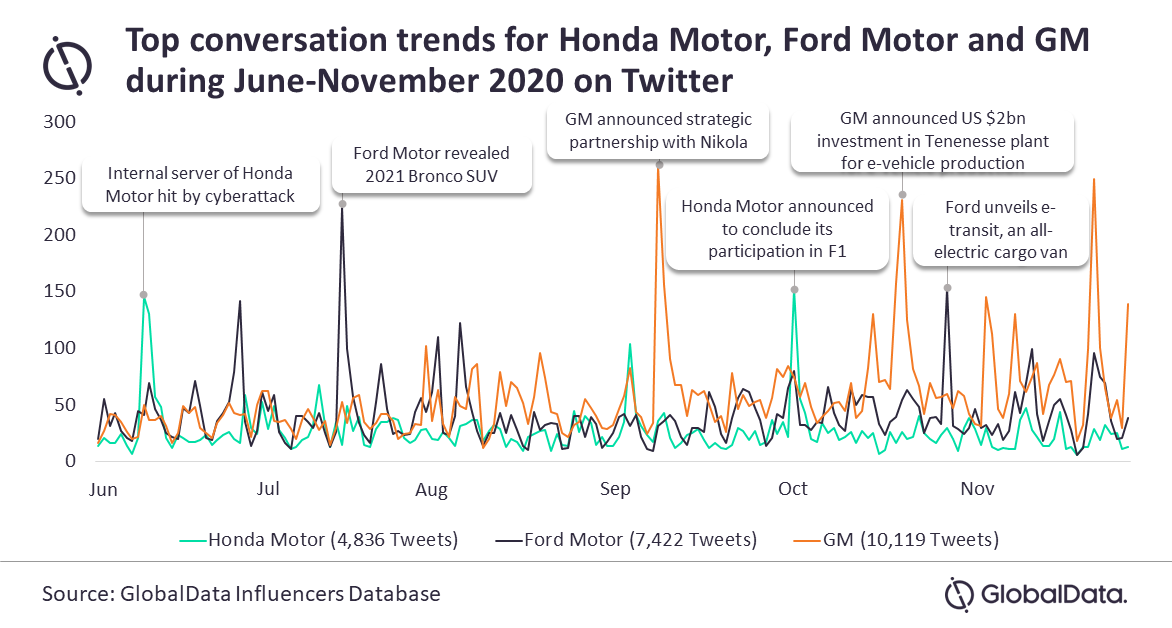 GlobalData's 'Influencer Platform'
The Influencer Platform is a part of GlobalData's Disruptor Database that decodes emerging tech-enabled opportunities with must-have information on promising start-ups, technology led innovations, latest sector trends, consumer insights, and venture capital portfolio investments. It helps monitor competitor strategies, predict emerging trends, monetize disruptive innovation, decode smart money, mine thought leadership, and capture digital consumers.