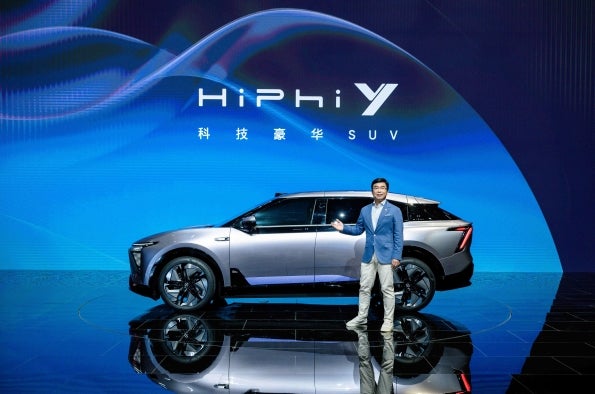 China-based EV start-up HiPhi (a brand created by Human Horizons) has revealed the third member of its model line-up, alongside its initial plans for global expansion.
Shown at the Shanghai Show, the new HiPhi Y will join the dual flagship models, X and Z, with plans for the first HiPhi customer cars on European roads this year, to be followed by the Middle East soon thereafter.
Two cities in Europe have been confirmed as the sites of the first HiPhi Hubs, or showrooms. Inspired by the HiPhi Hubs already established in China. These new experience centres will be opened in Munich, Germany and Oslo, Norway.
Germany is the largest BEV market in Europe and nearly 80 per cent of cars sold in Norway during 2022 were BEVs. The physical hubs will work alongside a new global HiPhi website (https://www.hiphi.com) and the upcoming HiPhi app.
The HiPhi X Super SUV has already received European Union Individual Vehicle Approval, with the HiPhi Z Digital GT to follow shortly. This milestone will allow for both cars to be sold in key European markets as a first step into markets outside of HiPhi's home country, China. HiPhi X is already the best-selling luxury EV domestically. 
With orders live imminently for both HiPhi X and Z in Europe, and the first customers receiving their cars before the end of the year, the next stage of HiPhi's global expansion comes with the Y, revealed this week at the Shanghai Auto Show. Fully designed and engineered with global markets in mind, it will mark an acceleration in volumes and an even broader expansion into Europe. The first customer orders will be taken by the end of 2023, with HiPhi Y deliveries in Europe expected in 2024.
So far, HiPhi says the Y model has completed multiple engineering tests, including winter testing, with mass production preparations progressing quickly. Its wing-opening doors, advanced technologies and powertrain are all 'inspired by HiPhi's dual flagship models'.
HiPhi Founder, Chairman and CEO David Ding said: "HiPhi has been committed to building a global high-end brand from China since its inception, so while we delve deeply into the Chinese market, we also look globally. In 2023, we will launch a global brand strategy and expand into overseas markets, with the European and Middle Eastern markets the focus of our first wave of expansion."