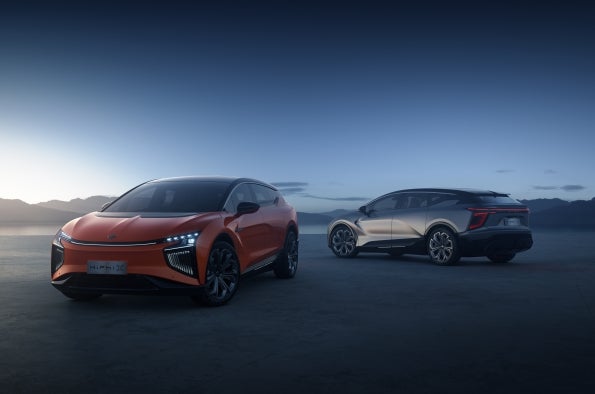 HiPhi, the luxury EV automotive brand owned by Human Horizons, has had its vehicles tested by TÜV SÜD to obtain approval for HiPhi X – described as 'one of the best-selling luxury EVs in China'.
The company says the approval marks a first step into European markets for HiPhi, which was first established in December 2017.
HiPhi claims its HiPhi X Super SUV features a number of world and industry firsts and that key technologies include the PML programmable headlights able to project images or even movies and an intelligent automatic door system.
Its powertrain combines 220kW dual motors front and rear, allowing for 0-62mph (100km/h) in 3.9 seconds, and with motor efficiency of 97.2% – among the best in its class, the company claims. A 97kWh battery pack provides a range of 650km in the Extended Range versions under CLTC conditions, it says.
Each HiPhi X version comes with a 17-speaker Meridian audio system, a 19.9-inch entertainment screen purely for the front passenger and a 'customizable smart fragrance system'.
HiPhi X is available in six-seat or 'even more luxurious four-seat configuration', including a smart refrigerator, 8-inch rear high-definition touch screens and fully adjustable executive airline-style seats.
The company says vehicle approval and homologation process undertaken by TÜV SÜD ensures that HiPhi X adheres to European standards and regulations. This includes analysis of the battery management system, chassis control, brakes, steering and active systems such as park assist and radar-guided cruise control. TÜV SÜD also undertook stringent EMC testing to ensure HiPhi X and its high-voltage components don't interfere with the ambient electromagnetic environment.
"The homologation was crucial in enabling HiPhi products access to the European market," said Stefan Merkl, Vice President Automotive at TÜV SÜD.
Moreover, TÜV SÜD completed the EU Homologation for the HiPhi X in record time, the company says.
The brand's European plans begin with HiPhi X, but soon the second flagship model, the HiPhi Z, will follow.
The HiPhi Z, first introduced in 2022, is described as a Digital GT fully electric coupé. It is capable of accelerating from 0-62mph (100kmh) in 3.8 seconds and – with its 120kWh battery pack – can travel 705km on a single charge (CLTC). It again 'introduces revolutionary technologies', including HiPhi Bot, featuring the first robotic arm in the industry, which holds the central infotainment screen and is adjustable in four degrees of freedom/eight directions.
At the Shanghai Auto Show on April 18, HiPhi will reveal an all-new third model, HiPhi Y, designed and engineered with global markets in mind.
HiPhi CTO and Co-Founder Mark Stanton said: "Receiving the necessary test reports from TÜV SÜD for the European vehicle approval is not only an important step forward in our carefully considered plans for launching in Europe, but it's also a reinforcement of the meticulous standards to which HiPhi products are engineered. European road safety standards are among the strictest in the world, and the homologation by TÜV SÜD confirms that HiPhi X meets these standards."
Further details about HiPhi's European plans, including launch markets, will be revealed at the Shanghai Auto Show later this month.