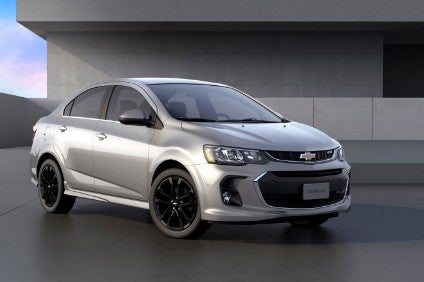 General Motors has confirmed plans to discontinue the US built subcompact Chevrolet Sonic.
Production of the Sonic at Orion Assembly plant in Detroit would end in October to make way for a new all-electric model called the Bolt EUV in 2021, company spokeswoman Megan Soule told cnbc.com.
The new car is a larger version of the Chevrolet Bolt EV which the plant currently produces alongside the Sonic.
GM decided to axe the Sonic "due to declining demand", Soule told CNBC.
The report said sales had declined every year from a peak of almost 100,000 units in 2014, to under 14,000 in 2019.
Production of the Sonic in the US – it is also built in five other GM plants worldwide, according to GlobalData's Product Lifecycle Database (PLDB) – lasted longer than many expected amid low petrol prices, consumer preference moving to crossovers and GM's plans to pivot to all-electric vehicles, CNBC said.
CNBC noted GM had launched US Sonic production as the automaker emerged from its government-backed bankruptcy in 2009, the car a symbol of a new era of US small car production as the Obama administration pushed for more fuel efficient vehicles.
In 2011, the then-president Barack Obama toured the facility with South Korea president Lee Myung-bak to promote the US-Korea Free Trade Agreement as parts for the Sonic were being imported from GM in South Korea which also built the model.
A previous version of the car had been exported from South Korea to the US.
The plant's roughly 1,125 employees would not be impacted by the production change, Soule told CNBC.
The discontinuation of the Sonic would leave the Chevrolet US brand with the Spark and Malibu as its only remaining passenger sedans.