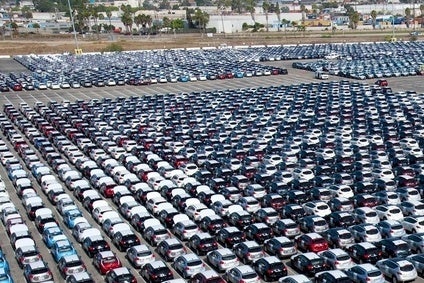 In year-on-year (YoY) terms, vehicle sales in March were down 14%. The US saw a continuation of tight inventories and high transaction prices. China's market, however, was up by almost 5%.
North America
US Light Vehicle sales fell by 22.0% YoY in March, to 1.26 million units, with the annual comparison hindered by a high base effect. The selling rate declined to 13.4 million units/year, from 14.0 million units/year in February, driven by the fact that under normal conditions March sales would be expected to be higher. Inventory is still extremely tight, and average transaction prices, at US$44,262 in March, were still up by 18.8% YoY. On a positive note, fleet sales showed signs of recovery in March, accounting for 14.9% of the total market.
In Canada, LV sales declined by 18.9% YoY in March, to 142k units. The selling rate decelerated to 1.52 million units/year in March, from 1.67 million units/year in February. March 2021 was the strongest month of last year, whereas the ongoing lack of supply continues to handicap the market in 2022. In Mexico, sales were down by 0.3% YoY in March, at 95k units, while the selling rate accelerated to 1.11 million units/year, from 1.06 million units/year in February. This was the smallest YoY decline since August 2021, when the market was in growth territory.
Europe
The West European selling rate dropped to 10.6 million units/year in March, from 11.7 million units/year in February, bringing the Q1 2022 average to just 11.2 million units/year. The start to 2022 has been very disappointing as the automotive industry continues to endure the impact of supply problems. To make matters worse, the horrific war in Ukraine only adds to these issues.
The East European selling rate nosedived to 2.8 million units/year last month on the back of the Russia-Ukraine conflict. Russian sales more than halved YoY, as consumers were faced with higher vehicle prices, falling real incomes and the threat of rising unemployment.
China
Advance data indicates that the Chinese market remained resilient amidst lockdowns and the clouding global outlook. The March selling rate was 24.3 million units/year, up 4% from a weak February. That, however, brought the YTD selling rate to only 25.2 million units/year, a marked slowdown from the 27 million units/year average in Q4 2021. In YoY terms, sales (i.e., wholesales) contracted by 6.3% in March against a strong year-ago result, though increased by nearly 5% in Q1 2022.
In March, NEVs continued to lead the market, expanding by 117% YoY, perhaps because consumers rushed to buy them before further price hikes. Sales will likely slow sharply in April, due to extended and stricter lockdowns in many cities across the nation. In Shanghai, a number of OEMs and suppliers, including SAIC-GM and SAIC-VW, are being forced to stop production temporarily, exacerbating supply disruptions.
Other Asia
In Japan, sales picked up after being impacted by the Omicron surge in February. The March selling rate was 3.9 million units/year, up 6% from the previous month. In YoY terms, however, sales declined by 16% in March (the ninth consecutive month of contraction). Sales of Mini Vehicles (which account for nearly 40% of total LV sales in the country) were particularly weak, falling by 19% YoY. The global supply-chain bottlenecks continue to hamper production and sales, while demand remains strong.
The Korean market remained sluggish in March, due mainly to the shortages of parts, including semiconductors. The March selling rate was 1.6 million units, down 5% from February. In Q1, the selling rate averaged only 1.6 million units/year, compared to last year's total LV sales of 1.7 million units. China's COVID-19 lockdowns disrupted shipments of China-made parts to Korea. The Japanese and German imports were also in short supply, owing to the supply issues in their own countries. Yet, demand remained robust, continuing to outstrip supply.
South America
The Brazilian LV selling rate declined to 1.56 million units/year in March, from 1.75 million units/year in February, the lowest rate since the early stages of the pandemic in June 2020. A combination of continued low inventory for some brands, and a general decrease in vehicle affordability due to rapidly rising interest rates and spiking inflation, is currently creating a difficult environment for new vehicle sales.
In Argentina, LV sales were down by 6.7% YoY in March, to 32k units. The selling rate increased to 373k units/year, up from 350k units/year in February; the strongest rate since June 2021. Nevertheless, the market is still sluggish overall, as inflation, soaring interest rates, and the government's import restrictions add to the same supply chain issues being experienced worldwide.