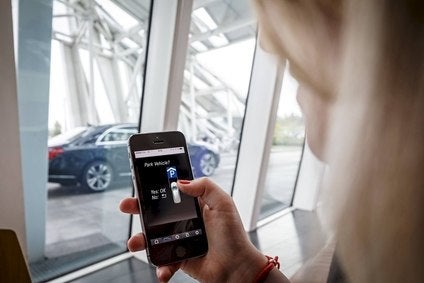 Bosch Group has recognised its top suppliers with the 'Bosch Global Supplier Award 2015,' the 14th time the component producer has given out worldwide supplier commendations.
This year, the technology and services company cited 58 suppliers from eleven countries.
"The Bosch Global Supplier Award honours our top suppliers, who play such a key role in Bosch's success," said Bosch board chairman, Volkmar Denner.
"Our suppliers are important partners in helping us shape the connected world. We want to work with them to develop beneficial solutions for our customers."
The theme of this year's award ceremony was 'Power of partnership – connected intelligence.'
At its recent Automotive Press Briefing in Boxberg, Bosch Mobility Solutions sector chairman, Rolf Bulander also noted the supplier was not only concerned about the technology under the hood, but also about the societal impact its technology could make.
"In big cities we have to rethink personal mobility," said Bulander. "We know we are a systems supplier and that is more than selling just brakes and engine systems. We deliver solutions to connect the car, other modes [of] transport and infrastructure.
"When it comes to car driving we see a congruence between societal and technological trends. For example fuel efficiency is in the interest of climate protection."
Repeat winners
Bosch works with 35,000 suppliers worldwide and this year the company has chosen to honour the top 58 with the award. Three suppliers are winners for at least the eleventh time, while seven companies have now won the award for at least the fifth time.
Almost half the companies are headquartered outside Germany and one-quarter of those are located in Asia.
Bosch maintains web-enabled products and internet-based services form one of the cornerstones of future sales growth, with Denner convinced customer focus and customer benefit are crucial for success in the internet of things.
"Our goal is to achieve supply-chain excellence," said Denner. "Trust, transparency, agility, quality, delivery capability and competitive prices are at the core of our collaboration with our suppliers."
Getting suppliers involved early
Bosch now wants to involve its suppliers even earlier in the product creation process and to work with them to develop solutions for the connected world.
"In this context, connectivity is by no means only a subject for Bosch," said deputy board chairman, Stefan Asenkerschbaumer. "It encompasses the entire value-added chain."
"We will only remain competitive if we all systematically embrace further connectivity."
For that reason Bosch added it recognises forward-looking projects with a supplier award in the 'Innovations' category.
This year, the winners were IMS Gear, Infineon Technologies and 4flow. Based in Berlin, 4flow received an award for its support in the development of a globally standardised transport management system.
Bosch is using new processes and systems developed by 4flow to organise its worldwide road transport operations more efficiently and economically.
Further internationalisation of supplier base
In 2014, the Bosch Group's purchasing volume came to some EUR25bn (US$28.7bn). Europe still accounts for the lion's share, at roughly 60% of the global purchasing volume.
Outside Europe, procurement is centred on China, the US and Japan. Procurement mainly involves production materials such as turned parts, electronic components and pressed, drawn, bent, or plastic parts.
It also includes commodities, operating equipment, services, and capital goods.
The winners* broken down by category:
Innovations
. 4flow, Germany
. IMS Gear GmbH, Germany
. Infineon Technologies AG, Germany
Purchasing of indirect materials
. Balluff GmbH, Germany
. Beier + Seitz Elektrotechnik GmbH, Germany
. BT (Germany) GmbH & Co. oHG, Germany
. DMS Digitale Mess- und Steuersysteme AG, Germany
. Erwin Junker Maschinenfabrik GmbH, Germany
. Hoffmann Group, Germany
. IN tIME Express Logistik GmbH, Germany
. Kennametal Deutschland GmbH, Germany
. Kiener Maschinenbau GmbH, Germany
. Mahr Group, Germany
. Omnicom Media Group, USA
. Randstad Holding nv, the Netherlands
. Rehm Thermal Systems GmbH, Germany
. Spedition Brucker GmbH, Germany
. Teradyne, Inc., USA.
. Vector Informatik GmbH, Germany
. Zeller + Gmelin GmbH & Co. KG, Germany
Raw materials and components
. A. Schulman Inc., USA
. CW Bearing Cixing Group Co., Ltd., China
. NAKAGAWA SPECIAL STEEL INC., Japan
. Saar-Blankstahl GmbH, Germany
. Schwering & Hasse Elektrodraht GmbH, Germany
. Shenzhen Kaizhong Precision Technology Co., Ltd., China
. Vincenz Wiederholt GmbH, Germany

Electronics and electromechanics

. EUROTEC, k.s., Germany
. Murata Manufacturing Co., Ltd., Japan

Mechanics

. Erdrich Umformtechnik GmbH, Germany
. Gentherm Inc., Germany
. Klumpp GmbH & Co. KG, Germany
. Lorom Group, China
. Oetiker Deutschland GmbH, Germany
. PMC SMART Solutions LLC., USA
. Possehl Electronics Deutschland GmbH, Germany
. Reich GmbH, Germany
. Taesung Rubber & Chemical Co., Ltd., Korea
. Takako Industries, Inc., Japan
. Teknia Automotive, Spain
. TURVO International Co., Ltd., Taiwan
. Walter Söhner GmbH & Co. KG, Germany
. Weppler Filter GmbH, Germany
. Wilhelm Stolz GmbH & Co. KG, Germany
. Xinzhi Motor Co., Ltd., China
. Zhejiang FORE Machinery & Electronic Co., Ltd., China
. ALPMETAL & CO, d.o.o. Selca, Slovenia
. ASK Chemicals GmbH, Germany
. Changsha Boda Mechanical Parts Co., Ltd., China
. IHI Ionbond AG, the Netherlands
. Jiangsu Asia-Pacific Light Alloy Technology Co., Ltd., China
. Jiangsu Longcheng Precision Forging Co., Ltd., China
. KSM Castings Group GmbH, Germany
. Omen High Pressure Die Casting, Israel
. SFS Intec AG, Switzerland
. Ssangyong Materials Corporation, Korea
. Wagner GmbH & Co. KG, Germany
. Yantai Shougang Magnetic Materials Inc., China
* The country given is where the recipient of the award has its headquarters.