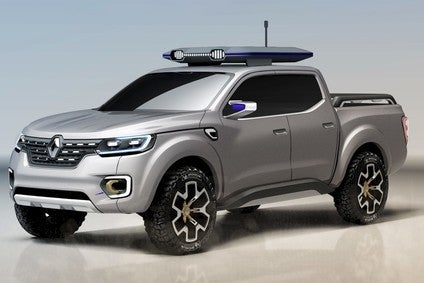 Renault has unveiled a one-tonne pickup truck concept previewing its previously announced version of a model line, based on Alliance partner Nissan's NP300 Navara/Frontier range, which will also be shared with Daimler's Mercedes-Benz. The automaker also announced a new global light commercial vehicle (LCV) sales and support network branded 'Renault Pro +', similar to FCA's Fiat Professional organisation.
Renault already has plenty of form in light commercial vehicles, including supplying Daimler with a Mercedes-Benz Citan-branded version of its Kangoo small van and sharing jointly developed mid- and large-size vans with GM Europe's Opel and Vauxhall brands, primarily in Europe. In addition, its Sandouville plant in France is to build a Trafic-based LCV for Fiat from mid-2016 – parent FCA has previously had LCV joint ventures with PSA.
Under its own brand, Renault sells LCVs in 112 countries, with the top markets outside Europe being Brazil, Argentina, Turkey, Morocco and Algeria. It produces LCVs in Europe (France, England), Latin America (Argentina, Brazil) and Africa (Morocco) but, though it offers an electric van (Kangoo ZE) and even a 'commercial' EV variant of the Twizy city runabout, it currently has no mainstream Renault brand pickup trucks in its model range although Dacia models have been sold as Renaults in some markets.
Announcing the joint truck project last April, Nissan and Daimler said they would jointly develop the midsize pickup truck while the Mercedes-Benz version would "share some of the architecture" with the NP300 Navara/Frontier, currently built in Thailand and Mexico. The Mercedes-Benz would be "engineered and designed by Daimler to meet specific needs of its customers" in "Europe, Australia, South Africa and Latin America". The trucks would be built at Nissan's commercial vehicle plant in Barcelona, Spain, and a Renault plant in Cordoba, Argentina. The pickup would have a double cab and will be targeted both at private and commercial customers.
After launching the Duster Oroch truck (built on a different platform) earlier this year, ahead of sales starting in selected, mainly emerging markets in this second half of 2015, Renault has now taken the wraps off the NP300-based Alaskan Concept which, it said, "marks a further step forward in its bid to win over customers in the constantly-growing pick-up market. Pick-ups account for more than one-third of total LCV sales and open up a fresh front for Renault's product offensive". The concept "is a striking show truck that paves the way for a pick-up that will have a global calling. It combines a payload of one tonne with cutting-edge, athletic styling to meet the exacting needs of business users and individuals alike".
"The styling of the concept sticks to the rules of the pickup segment, including impressive dimensions and a visual sense of power and robustness. At the same time, we have dialed in specific Renault cues in the form of an attractive, status-enhancing front-end design," added Renault corporate design chief Laurens van den Acker.
The production ready-looking Alaskan has the proven four-cylinder, twin turbodiesel engine from the current Master van range. Renault said the longitudinally-mounted powertrain is lighter than average equivalent engines with "outstanding acceleration performance, plus class-topping fuel economy and low CO2 emissions".
Payload is over one tonne and the double cab can take five passengers. The load bed incorporates three longitudinal recesses suitable for fixing equipment while additional storage bins either side of the load bed provide secure protection for equipment.
The concept also has cameras in the door mirror housings "to permit the filming of passing landscapes".
The automaker promised the production version's design "will be similar in spirit to that of the concept and will feature the same dimensions. A broad range of body types and powertrains will be available, it will be a high-end pick-up for business and leisure use, as well as for everyday motoring and will capitalise on Renault's crossover know-how with models like the Captur and Kadjar".
The production one-tonne pick-up will be unveiled in the first half of 2016.
LCV support network
Renault claims to have been Europe's top LCV brand for the past 17 years, and now wants to "move from being a top regional player to a top global player".
"Light commercial vehicles are a major strategic market, with over 14m sold in 2014," the automaker said.
So its is launching Renault Pro+, described as "a worldwide expert brand dedicated to buyers and users of light commercial vehicles, providing tailor-made products and services through a highly trained specialist network". Pro+ previously was the name for the automaker's LCV specialist network, offering comprehensive services to buyers and users, at specific dealerships with high volumes of LCV activity.
"Now, as an expert brand, in addition to being a specialist network, Renault Pro+ will accompany LCV customers along their entire journey, from searching for the right vehicle and purchasing it, to the whole ownership period – ensuring a positive customer experience throughout the vehicle's lifetime," Renault said.
"Using Renault Pro+ as an expert brand is a strong commitment to meet the needs of our LCV customers. The customer experience we offer will expand thanks to our bespoke know-how and by strengthening our offer in terms of products and services," said brand general manager Fabien Goulmy.
Specific Renault Pro+ products include tailor-made vehicles, (more than 640 versions) and specific adaptations to customer needs. The services provided will differ slightly depending on individual markets, eg: some services focused on LCV buyers, such as the converter vehicle financing available in France and Poland, will be more broadly deployed through the Renault Pro+ expert brand. Other bespoke services will be developed in order to answer the local needs that can vary from one country to another such as specific leasing offers for LCVs with bespoke finance plans for vehicle conversions, insurance plans for tradespeople, used LCV programmes, and so on.
The new network starts with 600 specialist dealers worldwide.