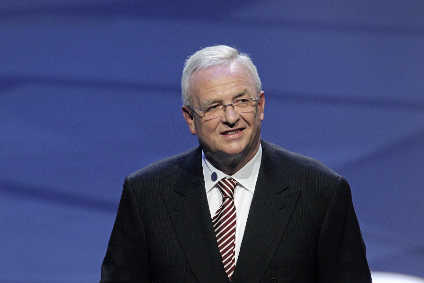 Has the other shoe finally dropped? Following the recent European Commission accusation against BMW, Daimler and VW of breaching EU antitrust rules from 2006 to 2014 by colluding to restrict competition on the development of petrol and diesel emissions control technology for passenger cars, came news today former Volkswagen AG chief Martin Winterkorn has been charged with serious fraud alongside four other managers in Germany for their role in the diesel emissions-rigging scandal that so far has cost the automaker about EUR29bn (US$33bn).
According to Bloomberg, the suspects are accused of equipping vehicles sold in Europe and the US with a 'defeat' device [which could tell if the vehicle was being tested for emissions or driven in everyday use].
The report said the former CEO was also charged with breach of trust because of his failure to swiftly tell authorities about the devices, bringing higher fines for the company. Bloomberg cited an emailed statement from Braunschweig prosecutors.
Winterkorn's lawyer Felix Doerr told Bloomberg prosecutors denied him full access to their files and would not comment because all information had not been supplied to him.
Serious fraud carries a maximum sentence of 10 years in Germany, the report noted.
Prosecutors have yet to identify the other four VW managers but the five men are the first to be charged in Germany over 'dieselgate'.
Bloomberg noted Winterkorn and other company managers were indicted in the US in 2017.
Prosecutors told Bloomberg the actions of some of the men date back to 2006 but Winterkorn was informed about the scam in May 2014.
Six months later, he allegedly condoned a "useless" update of the vehicles' engine management software to help further hide the scam, Bloomberg added.
Full coverage to date of Volkswagen 's emissions crisis here