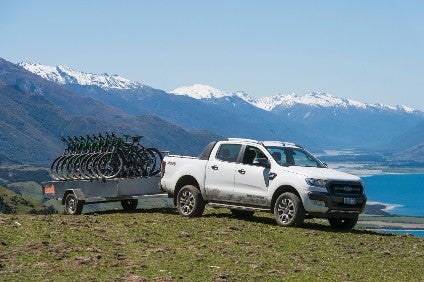 Ford plans to introduce its best-selling 'Built Ford Tough' truck brand in China to pursue growth opportunities in the country's emerging pickup market.
The automaker will outline the strategy on Saturday at a special event in Shanghai led by president and CEO Mark Fields. In addition to announcing pricing for the F-150 Raptor high performance pickup going on sale now in China, it will announce plans to start selling the globally popular Ranger mid-size pickup in the market from 2018.
"We're very excited to bring Built Ford Tough, one of the world's best loved and most successful brands, to customers in the world's largest auto market," said Fields. "We see a significant white-space opportunity with Chinese buyers increasingly looking for more capable, more refined and more stylish pickups."
While pickup trucks currently represent less than 2% of the market, China is already the fourth largest truck market in the world with 14% growth last year. Ford recently completed extensive market research to better understand Chinese attitudes, wants and needs when it comes to trucks. Those surveyed said pickups traditionally have been perceived as lacking comfort and modern features. Chinese customers, however, have had more exposure to modern trucks through TV, film and the internet and have become more interested in pickups with more SUV-level comfort and refinement to support their work needs and expanding outdoor lifestyle.
At the same time, China has been easing restrictions on pickup usage in city centres, which is another factor driving growing interest in pickups.
"We see an opportunity to satisfy unmet need in China – for world-class, stylish and refined pickups – and also to be a pioneer in this emerging segment," said Dave Schoch, president of Ford Asia Pacific and CEO, Ford China. "Built Ford Tough is a proven brand, dating back to 1976 and we believe it has the opportunity to resonate powerfully with Chinese consumers."
Introducing Ranger in China
The Ranger comes to China with a strong track record. The best-selling midsize pickup in Europe, South Africa and New Zealand, and second best-selling midsize truck globally outside North America, it has, according to Ford, "set a new benchmark in the compact pickup truck segment since its launch, with an uncompromised blend of robust capability, toughness and advanced technology".
F-150 Raptor is now available
Exported as a four-door SuperCrew model, the second-generation F-150 Raptor leverages the latest advanced technologies, including a military-grade, high-strength, aluminum-alloy cab, while its muscular body is uniquely composite. Equipped with an advanced six-mode Terrain Management System™ including Baja 1000, F-150 Raptor is engineered to meet the needs of the most demanding owners.
"The F-150 Raptor has created a lot of buzz among Chinese customers since it was revealed for the first time last year and we are extremely excited to have it arriving in our showrooms in China, ready to be delivered to customers," said Peter Fleet, vice president, marketing, sales and service, Ford Asia Pacific.
The Raptor features an exclusive high-output version of the 3.5-liter EcoBoost engine with a Ford-built 10-speed automatic transmission.
Ford has sold more than 26m F-Series since 1977, making it the top-selling truck in America for 40 consecutive years, and the country's best-selling vehicle overall for 35 years.