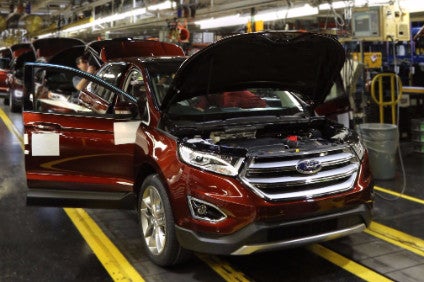 Ford said today (10 January) it was starting consultations with unions and other parties to begin a restructure of the brand and make its European business "sustainably profitable".
The plan, outlined largely earlier, is to offer more distinctive vehicles in Europe and reducing costs.
The automaker will focus on higher volume, more profitable sectors and under-performing model lines will be axed.
"We are taking decisive action to transform the business in Europe," said Ford's Europe, Middle East and Africa chief Steven Armstrong.
"We will invest in the vehicles, services, segments and markets that best support a long-term sustainably profitable business."
Ford is entering into formal talks with its works council and trade unions and has revised near-term profitability and cost cut targets for 2019 and 2020.
Complexity of existing Ford products will be reduced and only the most profitable vehicle configurations built, in higher volume.
Job cuts
On job cuts, Ford said only: "Structural cost improvements will be supported by reduction of surplus labour across all functions – salaried and hourly. An improvement in management structure, announced in December, already is under way through [restructure of the salaried workforce worldwide] that will improve the agility of the organisation."
The automaker said it hoped to reduce workers mostly by voluntary departures in Europe.
Business 'redesign'
Ford also is establishing three "customer-focused business groups" in Europe for commercial vehicles, passenger vehicles, and imports – "each with clearly defined aspirations and dedicated organisations".
This, the automaker said, would better enable the new businesses "to make fast decisions centered on customer needs".
Ford of Europe is targeting a 6% EBIT margin longer term, with returns in excess of the cost of capital for each business group.
For commercial vehicles it plans smart vehicles, services and partnerships, noting its CVs are "highly profitable" and Ford is Europe's top selling commercial vehicle brand by sales volume, with over 25% of vehicles sold in Europe being commercials.
The successful (Transit building) Ford Otosan joint venture and the potential alliance with Volkswagen – an announcement of further plans is expected this week – will aid commercial vehicle growth.
For passenger vehicles, Ford plans better targeted, European-built models with everything from Focus up, and new or updated models, including an electrified option.
From Fiesta to Transit, either a mild hybrid, full hybrid, plug-in hybrid or full battery electric option will be offered.
Ford also plans to boost SUV sales – locally made EcoSport, Kuga and imported-from-Canada Edge. Sales passed 250,000, a new record, in 2018.
On top of the current Mustang and Edge (both sold LHD and RHD), another imported SUV is due in April plus a "Mustang-inspired full-electric performance utility" in 2020.
The automaker has already axed production at the Ford Aquitaine Industries plant in Bordeaux, France, which manufactures small automatic transmissions with output ending next August and discussions with unions are under way to end C-Max and Grand C-Max compact MPV production at the Saarlouis body and assembly plant in Germany because the segment here in Europe is shrinking.
Ford Sollers, the joint venture in Russia, is being reviewed with several significant restructuring options being considered and a decision is expected in the second quarter.
Ford also plans to consolidate its UK headquarters and Ford Credit Europe's headquarters at the Ford Dunton Technical Centre in South East Essex to improve business fitness and create a customer-centric technical hub, after negotiations with unions and local authorities.
"Working collectively with all stakeholders, our new strategy will enable us to deliver a more focused line up of European-built passenger vehicles, while growing our import and commercial vehicle businesses – for a healthier and more profitable business," said Armstrong.
More details will be announced in coming months after negotiations with works council and trade union representatives.