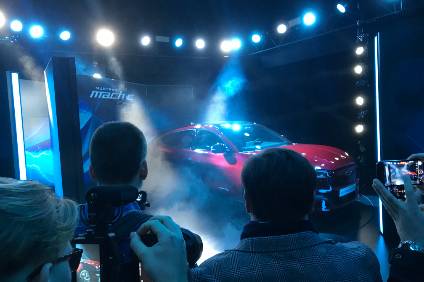 Ford has revealed the new Mustang Mach-E to the European public for the first time as the company launched a new 'Go Electric' experience that it says will help consumers across Europe make an informed transition to an electrified future.
Ford says the Mustang Mach-E spearheads a rapidly expanding Ford electrified vehicle range. Ford customers in Europe will be able to choose from 18 electrified vehicles by the end of 2021, up from 14 by the end of this year.
All-electric and plug-in hybrid Ford vehicles will be backed by a ' Ford Charging Solutions' ecosystem that Ford maintains will deliver seamless, integrated access to charging at home and across Europe.
Ford also announced plans to introduce 1,000 charging stations at Ford facilities across Europe during the next three years to make charging simple and convenient for employees as Stuart Rowley, president, Ford of Europe, called on governments, industries and institutions to support the push for electrification with faster expansion of public charging infrastructures.
"Ford is at the forefront of real change, and we're committed to providing all of our customers with the broadest choice of electrification options," Rowley said. "Infrastructure is critical to helping consumers have the confidence to go electric, but we can't do it on our own. Accelerated investment by all the key stakeholders across the U.K. and Europe is more important than ever."
Equipped with an extended-range battery and rear-wheel drive, Mustang Mach-E's targeted pure-electric driving range is up to 600 km (more than 370 miles). Ford says eighty-five per cent of Mustang Mach-E customers placing pre-orders have opted for the extended-range battery.
Charging with up to 150 kW at an IONITY charging station, the Mustang Mach-E will reach a driving range of up to 93 km (57 miles) within 10 minutes of charge time.
"With the Mustang Mach-E we're bringing excitement to electrification," said Roelant de Waard, vice president, Marketing, Sales & Service, Ford of Europe. "This is Mustang for a new generation – and the first that customers can order, configure, customise, and even arrange delivery for, all online."
Ford expects electrified powertrains to account for more than half of the company's passenger vehicle sales by the end of 2022.
Launching at London's famous Marble Arch, the Go Electric promotional platform will reach an estimated audience of 4 million consumers during a 6-month UK tour. Go Electric experiences in up to seven European markets including France, Germany and the Netherlands will follow. Ford says hands-on, engaging activities will help de-mystify electrification and inspire confidence in consumers who often remain confused about the different types of electrified powertrains available and their benefits.
"Ford has always aimed for democratising vehicles and technologies and now we intend to do the same for electrification. With 18 new electrified vehicles coming to Europe by the end of 2021, we will have an electrified option for every customer, to fit their specific budget and need," Rowley added. "Our pan-European roadshow will help de-mystify electrified vehicle options for all of our customers and give them all they need to make the right choice to fit their lives."